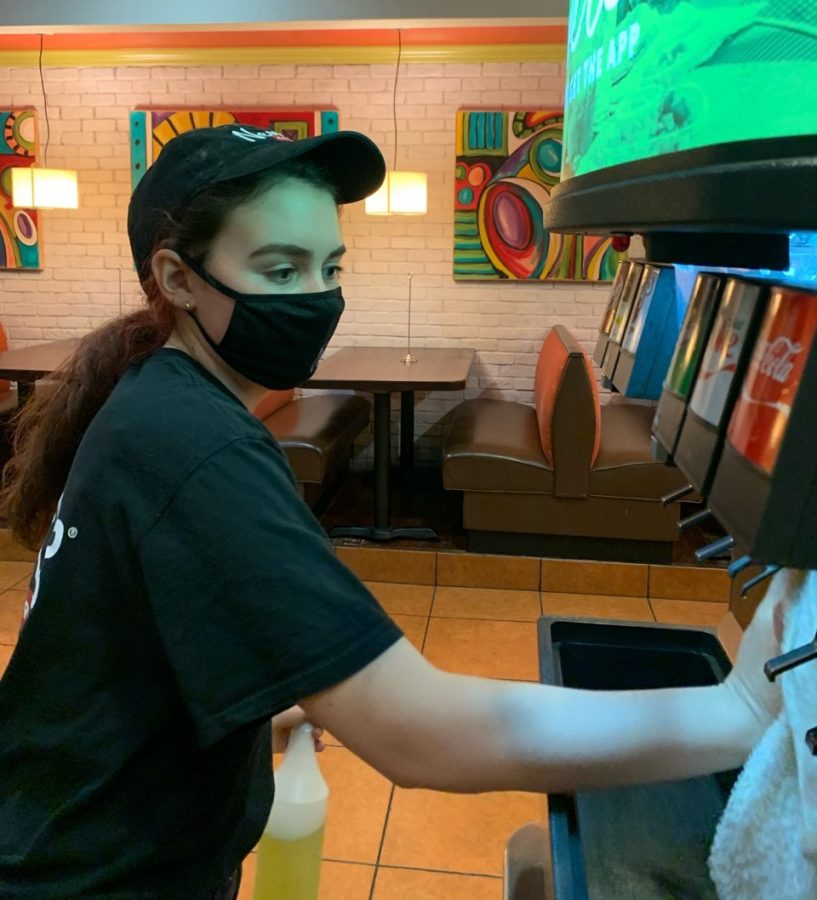 Ellen Fox
Part-time jobs were hard enough to balance with school before the pandemic. Now working students are putting their health at risk while also finding themselves responsible for protecting the health of the public. Whether it's restocking clothes at a local thrift store, running a cash register, or putting together salads, high school students working part-time jobs are now "essential workers," manning the front lines to provide the public good service while keepin them safe and helping businesses stay up and running.
For junior Natasha Walser, who worked as a cashier at a retail store over the summer, her experience gave her empathy with coworkers who had no choice but to expose themselves to risk during the pandemic in order to survive.
"Being able to talk to many different people with many different backgrounds has opened my eyes even more to what life is like for others during this pandemic," Walser said. "Something that I've taken away from [working] is that during this pandemic, it's made working harder for those who are depending on the jobs they have that require being out in public, and that everyone is doing what they can to survive."
Walser also faced belligerent customers, which caused her stress and fear at her workplace.
"The most difficult part of the job was dealing with hostile customers, especially the ones who refused to wear a mask. I actually felt at risk a lot since we were interacting with so many people and a large percentage wouldn't wear their mask properly," Walser said. Due to the corporate policy at the store, Walser said that she and her co-workers could not ask customers to put on a mask for their safety. The company's website says the policy is to protect the workers' safety by avoiding confrontations.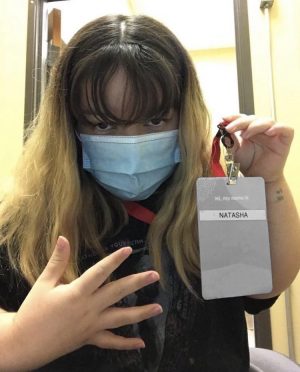 "One time I was shadowing one of my coworkers working at the cash register and a guy came up talking about how he had gotten COVID two weeks before, and it scared me so much."
Public division over the severity of the pandemic also affected senior Jay Mathias. Working at the Blue Genie Art Bazaar over winter break, enforcing capacity requirements meant he had the difficult task of turning away customers or asking them to wait.
"The check-in desk was installed, so we could keep track of how many customers were in the store at all times. This way we could keep the business as COVID-safe as possible," Mathias said. "It was difficult because some people just didn't understand that even though the store didn't look super packed, we could not let them enter until a party of equal size left."
Since August, senior Bridget Russo has worked as a server and salad-line employee at Newk's Eatery. Despite continuing spikes in cases, she's noticed that the trend of using curbside service has started to dwindle.
"More and more people are getting comfortable dining in, so it's not uncommon to see a large lunch rush when I work the weekends," Russo said.
Although food service and retail jobs during a pandemic present extra frustrations and risks, they also provide much needed social interaction, structure, and a sense of purpose. Russo finds virtual school actually helps her balance her job with school, volleyball, and college applications. Working three to four shifts a week, Russo says that she has taken advantage of online school to do all of her work during the day before her shifts.
"I told myself I would quit once it got to be too much to handle, and I still have my job," Russo said.
Not only has virtual school opened up time for Russo to pick up shifts, but quarantine has also given her a new appreciation for her work.
"During a normal year, I wouldn't have time to balance everything plus work, and most likely I wouldn't have pursued a job," she said, "but since everything is online, I've become grateful to leave my house, see my coworkers and interact with them; it almost gives me a feeling of the pre-COVID days."
Going into her job, Russo expected customers to be more forgiving towards her or any of her mistakes, considering she is only in high school and very much a human being. But she also appreciates the way her managers hold the same high expectations and standards for every person.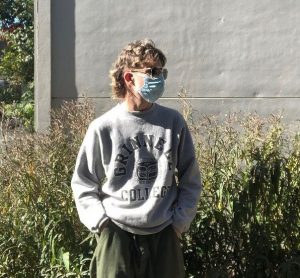 "My managers expect the same quality from me as they do from my older coworkers," she said. "When I first started working I was one of two seniors, and oddly enough I became closer to some of my older coworkers than I did to the coworker that was my same age."
Mathias felt he was treated differently for his age, being the youngest worker at his job.
"I enjoyed it though. It was fun to hear about their lives and past experiences," he said. "I really liked talking to older coworkers because everybody is from somewhere."
Walser, on the other hand, had a bad experience being younger than most of her workers and customers.
"Actually, some people treated me like I was stupid," Walser said. "Also, some customers would make comments about my disability [dwarfism] that were uncalled for."
But do the benefits outweigh the risks and frustrations?
Russo thinks so.
"I would 100 percent recommend and push someone towards getting a job. Not only does working give you a sense of purpose and give you some needed interaction during a virtual school year, you also get experience and a reason to leave your house!"
Mathias agrees with Russo that the benefits of getting out of the house make a job worthwhile, especially because his employer took health and proper sanitation seriously.
"My favorite thing was getting to meet new people because that's pretty rare during COVID."
If you do plan to look for a job during the pandemic, Mathias recommends to "make sure to always schedule your shifts for slow days and take positions where you're distanced from customers if possible."
Walser advises to pick your job carefully to ensure a safer experience and more support from your employer.
"Make sure that the place you're going to work at actually cares about its employees' health and that they won't tolerate dangerous behaviors from its customers," Walser said.
"My advice would be to go for it, you can always quit," Russo said. "I never would have thought I would end up at my job, especially for so long, so just go for it. Even though I risk getting exposed to COVID, it's something that has really helped me make the most of my senior year in quarantine.