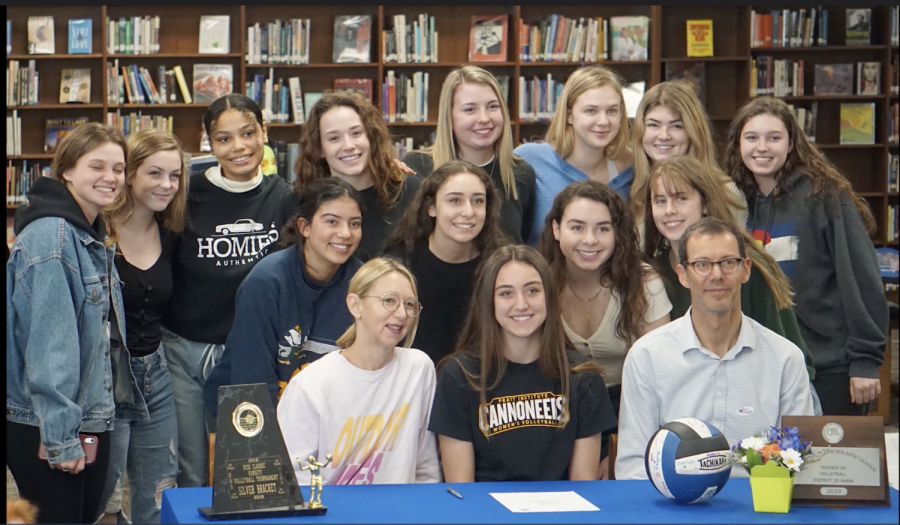 Dave Winter
Volleyball coach Amy Brodbeck's favorite memory of Shaine Rozman is the day that the middle hitter and team co-captain showed up for practice in a skirt. To those who know her, this is extremely in character for the fashion designer, volleyball player, artist and student council member, who has a special talent of making people laugh. The senior is set to attend Pratt Institute in New York City next school year, where she will study fashion design and play NCAA Division 3 volleyball.
Rozman dates her love of fashion back to when she was 10 years old. Creating her own looks, however, wasn't something she got to try until her junior year, when she jumped in headfirst and created a line for the annual Benefit Fashion Show, themed Paradigm.
"[My first piece] was the piece that I did for the McCallum fashion show last year," Rozman said. "It was this a-line color block dress. Yeah, that was my first piece I ever made, and it took me like two months. It was a mess."
Through Rozman's chic, athletic wear-inspired line, it seemed clear that she had managed to merge her artistic and athletic interests seamlessly. Despite it being her introduction to sewing a clothing collection, she made a strong showing.
"It was definitely a lot of work and very stressful, but I was third place last year; I tied with Sydney Buford," Rozman said. "I kind of always knew that I wanted to be in fashion, but that was definitely a confidence booster, I think."
Rozman went on to design a line in friend and classmate Julia Kay Smith's fashion show "Influence" last fall, where they, along with friends, senior Sydney Buford and St. Stephen's senior Anna Nasi, debuted original lines and raised more than $4,300 for the Girls Empowerment Network. When the McCallum Fashion Show rolled back around in February, Rozman, now a design veteran, won second place.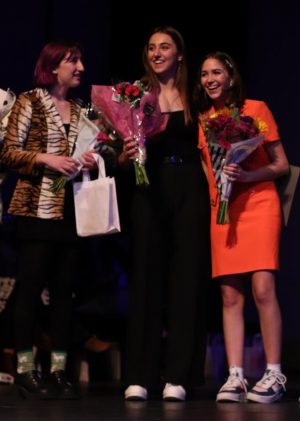 Rozman's volleyball career is also longstanding. She began playing the sport in fourth grade and fell in love with it.
"I definitely love volleyball," Rozman said. "I think it's like the most fun thing ever. Whenever I play volleyball, the time just flies by, and I have so much fun. "
Coaches Amy Brodbeck and Nicki Northcutt remember their first impression of Rozman at a MAC pre-tryout clinic as goofy, yet undeniably naturally talented.
"I think Brodbeck immediately recognized her potential and talent, and of course, Coach Brodbeck was completely right," Northcutt said.
That year, Rozman made the freshman A team, where she built up her reputation as a fun and positive teammate. She even became the team's official "fashion captain," who informed the players on what to wear before home games. Her sophomore year she played under Northcutt on the JV team. Then, she got her first taste of varsity play when she was pulled up to play in the district playoff matches that season. At this point, it was clear that she was no longer the same athlete who had tried out as a freshman. Her coaches, and the rest of the program could see that she had developed the focus to match her athleticism.
"Being her coach, I had the privilege of witnessing a goofy young lady become a mature yet still funny, creative young woman," varsity coach Brodbeck said. "Competitiveness is an understatement when it comes to Shaine. Mark my words: she may be fun, but she wants to win. Her leadership is admired by not only her coaches but her teammates as well."
Her junior year, she would make the varsity team and continue on to become a team captain her senior year (along with co-captains senior Liana Smoot and juniors Preslie Boswell and Sophia Henderson).
"She absolutely was such a good, positive leader," Northcutt said. "She just is completely focused from the beginning of the match to the end of the match, which is something that I never would have expected from her just as a goofy eighth-grader."
Spring break of her junior year, Rozman toured Pratt and other New York City colleges, looking for one that combined a robust fashion program with a respected volleyball program. At Pratt, she talked with head coach Louis Sepulveda, and got an inside look at the program. Then, later in her club volleyball season, Sepulveda came to watch Rozman play and knew she was the right fit for their team.
"He went and he saw me play," Rozman said, "and then after I played, he was like, 'OK, we're gonna offer you this scholarship, and we definitely want you to be on our team.'"
After that, Rozman said the choice was easy. Not only had she found the perfect school, but she had fallen in love with the location as well.
"Pratt is definitely the obvious choice," Rozman said. "When we went to New York, I was like, 'I love it here.' It's definitely where I want to be, minus the climate. I hate the cold, but I'll get used to it [because] I love New York, and it's so cool."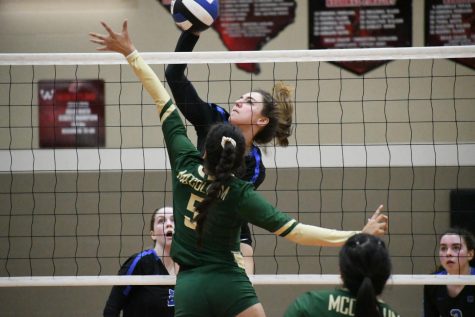 Although she is looking forward to joining a new team and throwing herself into fashion next year, there is a lot at McCallum to miss.
"I'll definitely come away from McCallum with a ton of friendships. I've made some of my best friends on the [volleyball] team," Rozman said. "Whenever we're together, we just have so much fun. I can't imagine my high school experience without volleyball."
She also credits the school with helping her evolve, finding her focus and her passions.
"Thinking about the growth that I've had, starting freshman year I was so different than I am now. I was not really passionate about anything," Rozman joked. "You can also tell by my style. It's changed a lot. I don't know what I was wearing freshman year, but it was not cute, I can tell you that. I think it's just really interesting that McCallum itself has shaped me into who I am."
If McCallum has shaped Rozman, the reverse could also be said about her shaping McCallum. She has been incredibly involved, from heading the environmental committee of the student council and organizing volunteer cleanups to showing off her talent in pottery throwing on the school's ceramics Instagram account. One thing is for sure, her attitude and infectious sense of humor will be missed.
"I just feel like Shaine is one of those rare people that you cannot not like," Northcutt said. "She just radiates positive energy, and she is very sincere. There's nothing artificial about her. She leads by example, and so when people see her focused on the court, and when people see her wanting to win, they just fall into that because she's just inspiring to watch."
Rozman has been keeping busy even during the coronavirus shutdown. The fashion designer is using her time and talents to design and produce handmade masks with the local business Mapenzi. For each purchase, the company employs a seamstress in Uganda and provides her with the materials to make masks for her own community.
As for next year, Pratt staff is expecting to reopen to some extent next semester, even if there hasn't been an official word. If all goes to plan, in the fall, Shaine Rozman will start the next chapter of her life doing what she does best: combining her passions and spreading her signature joy to the big city.
"I'm looking forward to the fashion program at Pratt and getting to learn more in-depth. I'm good at making clothes, I guess, but I don't really know all the things that go along with it, and I'm still learning now how much there is to learn," Rozman said. "I'm excited to be in New York and to be getting to learn all of that in the fashion capital of the world."
MacJournalism sports team