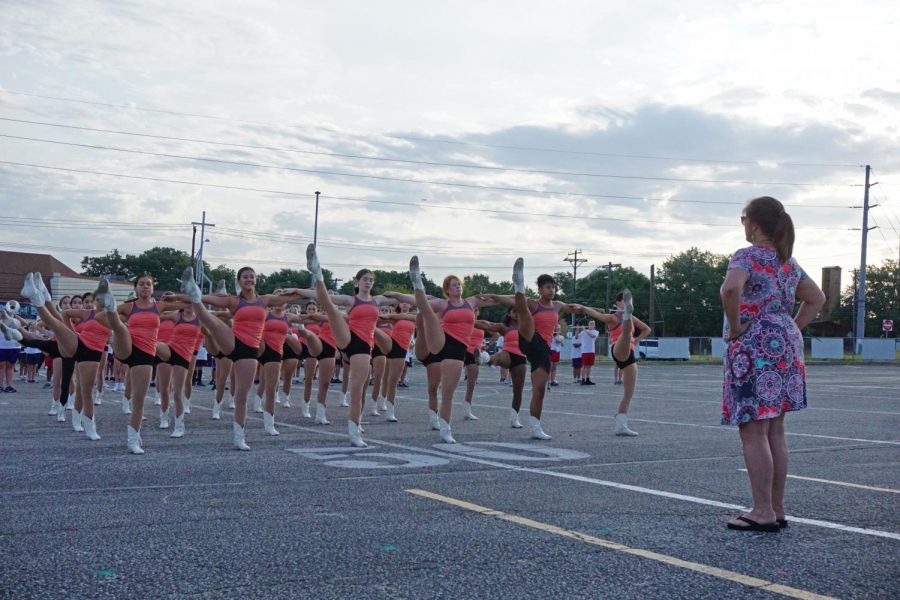 Caleb Melville
Even veteran teachers around McCallum look up to Nancy Honeycutt-Searle. She is one of those familiar faces, a teacher or coach who everyone knows. Honeycutt-Searle, or Honey as she is known to most of her students, athletes and dancers, has made a tremendous difference in the lives of countless students, Blue Brigade dancers and girls soccer players over the 30 years that she has been at Mac.
Today is Mother's Day, and it seems like a good time to complete our tribute to Honeycutt-Searle because she is a great mom and also has been like a mom to literally thousands of Mac Knights.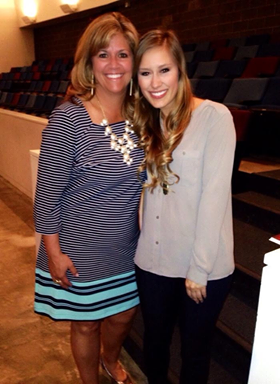 "I could not have asked for a better second mom throughout my high school years," said Margaret Wilson Buza, who in 2009 was the captain of two teams coached by Honey, the Blue Brigade captain and the girls varsity soccer team. "Where to begin? [Honey is] an amazing woman, in the entirety of the word: absolutely beautiful inside and out. She truly brings the sunshine with her whenever she walks into a room. I will forever remember Honey's cheerful smile, contagious laugh, and optimistic spirit."
It is doubtful than any Knight spent more time being coached by Honey than Margaret did.
"We spent many, many hours together each week between dance rehearsals, soccer practices, shows, and games," Wilson Buza said. "I remember how tight Honey would tie our hats before football games. She made sure they were perfectly tilted to the side and we did not have a hair out of place."
Honey wasn't just coaching a team, she was creating a community. 
"I loved our pregame traditions," Wilson Buza said. "We would all stand in a circle, cross our arms in front, and hold hands with the people next to us, then Honey would squeeze the person's hand next to her, and it would go all the way around the circle. Then, when it would get back to her, we would blow a kiss to the middle of the circle and spin around, so we faced the outside and our arms got untangled."
The circle seems like an apt metaphor to describe what Honey has meant to Mac. She has brought so many Knights into her circle of influence, not just students but also younger teachers like Chastity Colbert Davis.
"Honey is so special to McCallum, and I owe her so much gratitude as a former fellow spirit coach," Colbert said. "Honey is a legendary drill team director who runs her program with grace, class and humility. She hasn't just been an asset to the Blue Brigade and Lady Knight soccer team; most would say that she is the backbone of our athletic department. There are so many things that Honey has done behind the scenes for McCallum. She is an incredible mentor, coach, and friend." 
She has been central to the Mac community for a long time, but she wasn't always the backbone of the school. There was a time when she was the first year teacher trying to fit in and looking to make a good first impression.
When Honey first arrived at McCallum in 1989, her name at that time was Nancy Kudela, and she was eager to teach. The principal at the time, Penny Miller needed a drill team director, and she found the perfect woman for the job. Miller's new hire it turned out was one of the best hires Miller would make a Mac principal. She taught PE. She taught health.
"She never said 'no' to any request made to her," Miller said. "She also coached any sport I asked her to coach. So bottom line she was a team player. I knew I could count on her always." 
Kudela, who took the name Honeycutt when she wed Mac football coach Pat Honeycutt in 1996, worked closely with fellow spirit coach, cheer sponsor Mary Noack.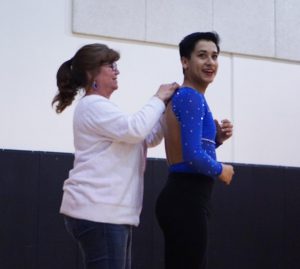 She was willing to do anything and everything that needed to be done, but there was more, Miller remembered. 
"She has a personality that makes connections with any department's personnel," Miller said. "That isn't always true when you are a coach, but it's true of Nancy. Kids love her and she balanced all jobs beautifully." Noack agreed. "She works, gives and loves with her whole heart. She will give you anything she has if she thinks you need it, and she is always there when you need her."
The fall of 2003 brought two new faces to the Maculty: principal Mike Garrison and social studies teacher Katie Carrasco. Both went on to become Mac legends in their own right, but when they were newbees, it was Nancy Honeycutt who made them feel at home and taught them how to be McCallum Knights. "Honey was one of my first friends in the McCallum faculty when I started there in 2003," Carrasco told MacJournalism. They shared a coach's office when Carrasco was the volleyball coach. For four years, she coached JV soccer during Honey's long run as varsity girls soccer coach.
"I first met Nancy Honeycutt-Searle in 2003 when I came to McCallum as principal. During my 16 years as principal, I've had the honor and privilege to know her as the head girls' soccer coach, Blue Brigade sponsor, and health teacher extraordinaire," Garrison said. "I soon discovered she was one of the main staff members that was a part of the steady heartbeat of all that was McCallum. She knew the many traditions at McCallum and was directly involved in ensuring they were continued and supported. Before my first Battle of the Bell game against Travis, she used her crafting skills, which are numerous and legendary I might add, and made me a bell from a piece of wood, painted it blue and gray, cut out a small football that fit in the bell, and attached a device that, when pressed, played the fight song! I still have and treasure the bell and it still plays 'When the Knights go Marching in.'" 
Wilson Buza said that Honey's legacy isn't about any specific awards or successes but rather in how she instilled character in and taught essential life lessons to the students that were lucky to call her coach.
"Honey taught us how to nail a dance routine, but more importantly, she taught us important life skills," Wilson Buza said. "Honey showed us how to be both a leader and a team player. She modeled strength, yet elegance and confidence, yet modesty. We did not just learn dance routines, but how to show grace and have patience and respect for others." 
According to longtime friend and faculty colleague Sarah Noack, Honey is also one of the toughest people in the Mac community.
"She is one of the strongest people I know. She has been through a LOT in her life – a tough divorce, the death of her husband Pat Honeycutt, her cancer, and now she has a beautiful new marriage.  I have watched her handle it with so much grace and resilience. She's one of the happiest people you'll meet, and you'd never guess that she's seen so much hardship."
Wilson Buza was on campus during one of those hardships in January of 2009, the year her husband, legendary Pat Honeycutt became ill at a basketball game and later died at St. David's Hospital.
"2009 was a difficult year, but Honey persevered and continued to blow us all away with her strength and courage," Wilson Buza said.
Overcoming personal challenges throughout her life, she has always been a tireless worker who put her students first.
Garrison said her work ethic knew no limits. In the fall, Honey planned pep rallies with the cheer sponsors and devoted her mornings to collaborating with the band directors on halftime shows and the cheer sponsors on Taco Shack decoration contests. In the spring, she somehow balanced the spring competitions and planning for the annual Blue Brigade Spring Show with her after-school demands of coaching varsity soccer practices and games. "Even with all these demands," Garrison said, "She was one of the best classroom teachers I've ever worked with." While both lauded her professionalism, they said she was even more valuable as a friend.
When Carrasco made the difficult decision to leave McCallum for Pflugerville in 2019, Honey was right there with her, supporting her decision. 
"People may not know it, but she often gives a gift to coaches and teachers who leave MAC after having been there for a long time," Carrasco said. She mentioned that she cherishes the gift she received from Honey to this day: an engraved cup that she uses in her new classroom every day. The inscription on the cup: "Once a Knight, Always a Knight."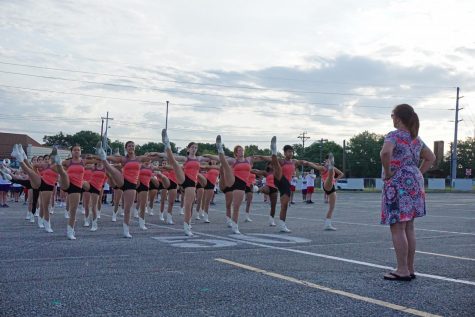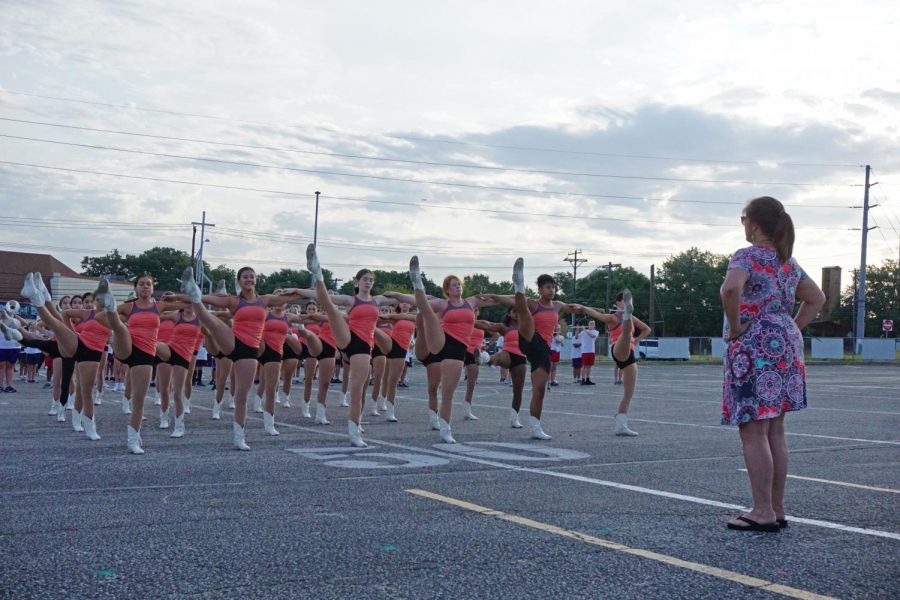 "If the McCallum community is really a 'family' like we all like to think it is, Nancy Searle is that favorite aunt, that big sister, or that rowdy cousin who is always down for a good time, that you want to have at every family party."
Honey has created many traditions at McCallum, one of them being "Last Dance" that is performed every year at the Blue Brigade Spring Show. While this year, Blue Brigade might not have been able to perform "Last Dance," it will be a sad time at McCallum when it comes to Honey's last time directing the "Last Dance."
"It will be a very sad day when Nancy does her "Last Dance" at McCallum High School." Garrison said. "She is amazing, kind, caring, and loves her students. Happy 30 year anniversary, Nancy."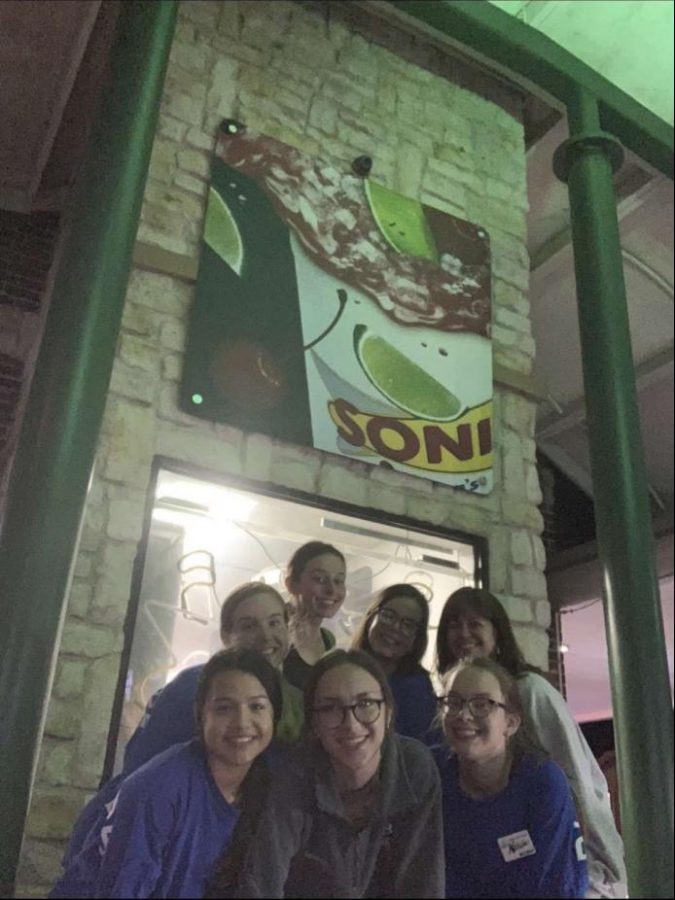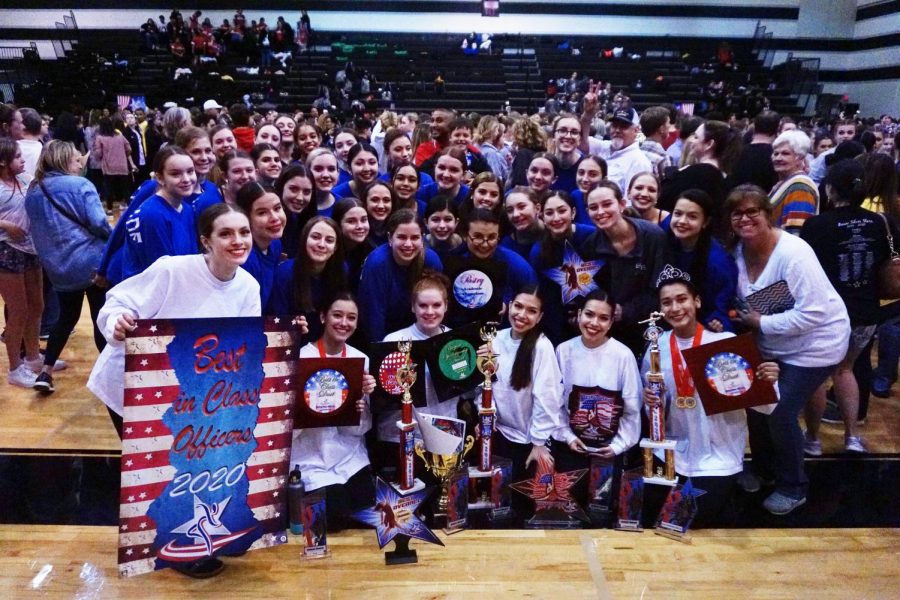 The Blue Brigade would have celebrated Nancy Honeycutt-Searle's 30th anniversary in regal fashion had it had its annual spring show as scheduled. We had pulled some archival images of Honeycutt-Searle and her Blue Brigade for that purpose, but since the spring show was canceled, we thought we would do our best to put these images toward the purpose for which we collected them. This is the third and final post and gallery of images covering Honeycutt-Searle's 30 years as Blue Brigade director. The images in the photo gallery cover the most recent years and were pulled from the MacJournalism photo archive, which spans from 2013-2020.