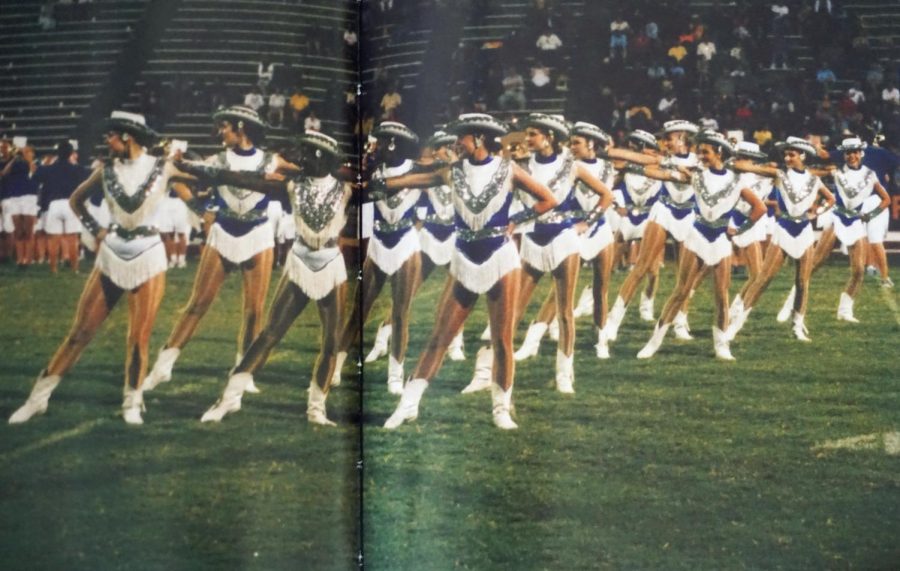 The Blue Brigade spring show was supposed to go down last weekend, and if it had, the Blue Brigade would have celebrated Nancy Honeycutt-Searle's 30th anniversary in regal fashion befitting the occasion. We had pulled some archival images of Honeycutt-Searle and her Blue Brigade for that purpose, but now that the spring show has been canceled, we thought we would do our best to put these images toward the purpose for which we collected them. In the second part of our series celebrating the 30th anniversary of the legendary coach, health teacher and drill team director, we take you back to 2003 when two eventual Mac legends arrived on campus. …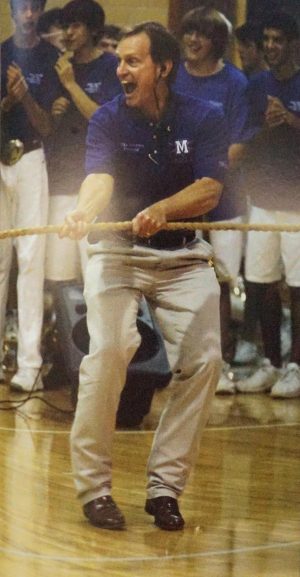 The fall of 2003 brought two new faces to the Maculty: first-year principal Mike Garrison and rookie social studies teacher Katie Carrasco. In their distinguished 16-year careers on Sunshine Drive, both went on to become Mac legends in their own right, but when they were newbies, it was Nancy Honeycutt (or Honey as they came to know her) who first made them feel at home and taught them what it took to be McCallum Knights.
"Honey was one of my first friends in the McCallum faculty when I started there in 2003," Carrasco told MacJournalism.
They shared a coaches' office when Carrasco was the volleyball coach. For four years, she coached JV soccer during Honey's long run as varsity girls soccer coach. 
It's hard to imagine that there was a time when Garrison had to be coached up about how to be a Knight, but he said that was how it was in 2003.
"[Honey] knew the many traditions at McCallum and was directly involved in ensuring they were continued and supported," Garrison said. 
He said he learned quickly that her work ethic knew no limits.
In the fall, Honey planned pep rallies with the cheer sponsors and devoted her mornings to collaborating with the band directors on halftime shows and the cheer sponsors on the annual Taco Shack decoration contest.
In the spring, she somehow balanced her Blue Brigade demands of planning spring competitions and the annual Blue Brigade Spring Show with her after-school demands coaching varsity soccer practices and games.
"Even with all these demands," Garrison said, "she was one of the best classroom teachers I've ever worked with."
While both Garrison and Carrasco laud her professionalism, they also said she is even more valuable as friend.
"She knows how to put a smile on my face like no one else," Carrasco said. "She seems to know how to deliver tough news to people in the most gracious way. … She is the most dependable and loyal friend you could ever hope to have."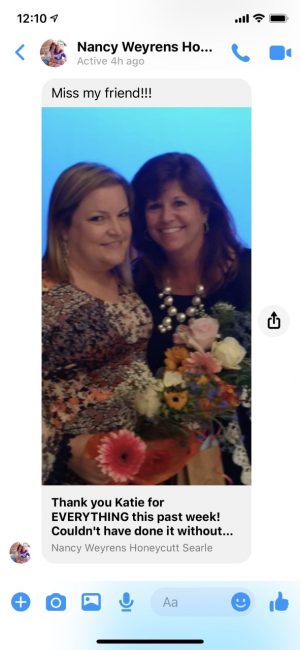 When it came time to bring the new principal up to speed on essential Mac traditions, for example, she did it not with a lecture but with a gift. 
"Before my first Battle of the Bell game against Travis, she used her crafting skills, which are numerous and legendary I might add, and made me a bell from a piece of wood," Garrison said.
She painted it blue and gray, and outfitted it with a small football that when pressed played the fight song.
"I still have and treasure the bell, and it still plays 'When the Knights go Marching in,'" said Garrison, who retired this past summer. 
Honey wasn't just a keeper of Mac traditions either. She was often their originator.
Carrasco said she believed Honey originated the phrase, "Once a Knight, Always a Knight." 
She said that Honey was generous when she first came to Mac in 2003, but that she remained generous when Carrasco made the difficult decision to leave Mac for Pflugerville in the spring of 2019.
"People may not know it, but she often gives a gift to coaches and teachers who leave MAC after having been there for a long time," Carrasco said.
She mentioned that she cherishes the gift she received from Honey to this day: an engraved cup that she uses in her new classroom every day.
The inscription on the cup: "Once a Knight, Always a Knight."
"If the McCallum community is really a 'family' like we all like to think it is, Nancy Searle is that favorite aunt, that big sister, or that rowdy cousin who is always down for a good time, that you want to have at every family party."
It's difficult to imagine the McCallum family without her. For the sake of future Knights, Garrison hopes that day doesn't come soon.
Garrison mentioned another Honey innovation that is now an established Mac tradition: the "Last Dance" where Blue Brigade seniors close the spring show. That tradition is all the more poignant this spring because of the cancellation of this year's spring show. 
"It will be a very sad day when Nancy does her 'Last Dance' at McCallum High School. She is amazing, kind, caring, and loves her students. Happy 30-year anniversary, Nancy."
Archival research by Ella Irwin. Copy photography by Jack Hester. Photo selection by Annabel Winter. Special thanks to the two Mac legends quoted in this post. Photos from the Knight archives.