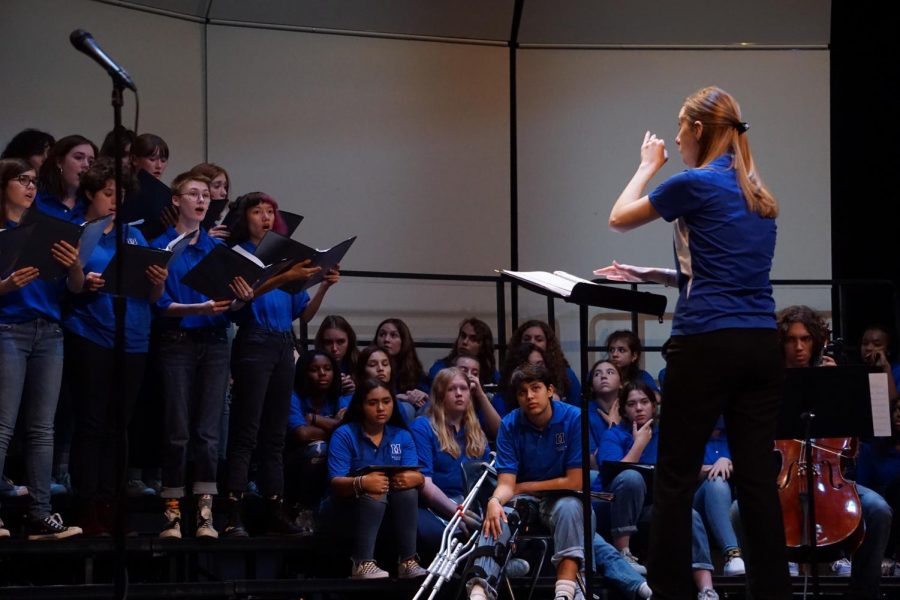 Annabel Winter
The McCallum choir room, which is usually teeming with music and sound, falls to a hush. Students lean forward in their seats, eager to hear the big announcement Allison Kashdan, their director, has to make. They listen with bated breath, wondering what it could possibly be. Then, Kashdan reveals that she is expecting a baby. The students' faces light up with enthusiasm at Kashdan's announcement, and it's safe to say she wears an equally large grin.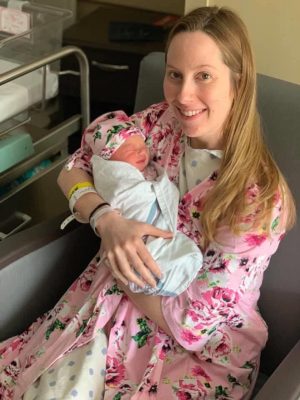 Kashdan is beloved by many of her students and has even taken on a motherly role with some of them. Sophomore Charlotte Bearse, a member of the varsity choir, values Kashdan's kindness and ability to empathize.
"She's such a sweet human being, and I love how kind she is to all of her students, and I love how she treats everyone," sophomore Charlotte Bearse said. "I feel like I can respect her and go to her with things."
As a teacher and mentor of more than a hundred teenagers, Kashdan has had her fair share of experience with caring for children. She believes this experience will help springboard her into handling the many demands of motherhood.
"I definitely feel like teaching has helped me," Kashdan said. "[I'm] always thinking about the safety, physically and emotionally, of [my] students."
When Kashdan learned she was pregnant, she arranged for Malcolm Nelson, a former McCallum choir director and Kashdan's uncle, to replace her while she went on maternity leave. In an interview conducted on her last day teaching, Kashdan explained her reasoning for bringing in a replacement director.
"I know I'm not conducting my best and teaching my best, so to have [Nelson] come in is just such a relief," Kashdan said. "It helps me relax and focus on what I need to be focusing on right now."
It was arranged that Nelson would conduct the UIL pieces as well as the masterwork this year, but unfortunately, these plans have been put to a halt due to the COVID-19 outbreak. UIL, which was set to take place on March 13, was canceled the morning of the event. Incidentally, March 13 was the first day that AISD canceled school in light of concerns surrounding the coronavirus.
Although the actual UIL competition was canceled, the McCallum choir dedicated a lot of time and hard work to the music. Through this journey, Nelson led the choirs in his new directorial position. The transition between conductors was made seamless by communication, Nelson said.
"When [Kashdan] knew she was going to have a baby, we sat down and went through the music," Nelson said. "It makes it fun because it's music that we both like. Since she had to teach it for a while; now I have to teach it for a while."
In Kashdan's pre-leave interview, she reflected on the past and the future. The anticipation of leaving made her a little emotional, Kashdan said.
"Mr. Nelson came for the after school rehearsal yesterday, so I was able to just sit back and listen to everyone and watch everyone," Kashdan said. "Definitely, I was getting a little teary-eyed."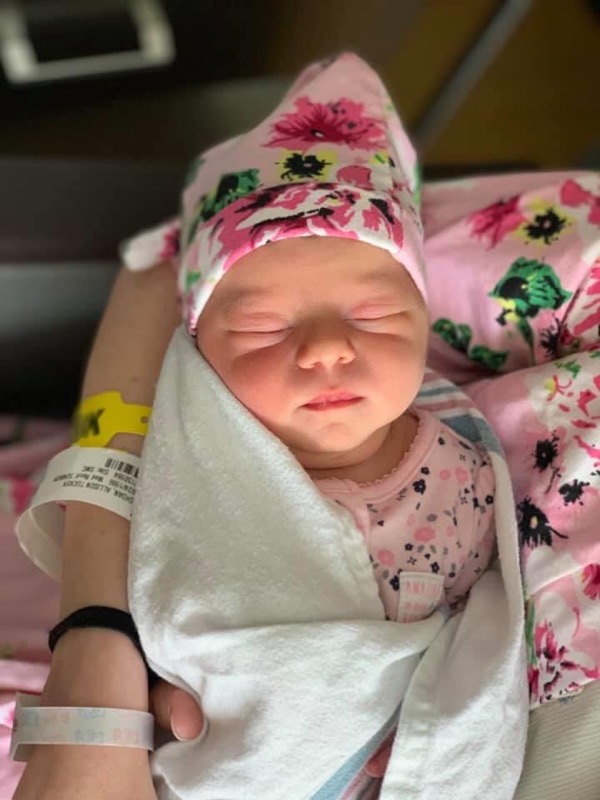 Kashdan is relieved that she can take her maternity leave knowing that the program is in good hands. Nelson is a teacher of 43 years, with many years of experience at McCallum. Prior to Kashdan arriving, Nelson was the director of the McCallum choir. He still comes every year to direct Cabaret, the annual choir showcase. The students know him well, and he has years of experience working with them.
"As we are gradually being pushed through the learning process, we're developing more respect for each other overall," sophomore Charlotte Bearse said.
Sophomore Abby Leman agrees that although being directed by Nelson is a challenge, it is a welcome one. She believes that the choir has improved under his conducting.
"He's pushed us really hard and we've risen to that point, and it feels really great," Leman said. "I think it's definitely a change because … [we] aren't as used to working with a new person, but it's interesting and I think it's gone pretty well so far."
As for Kashdan, she gave birth to a healthy baby girl in March. Acadia Claire Kashdan was born weighing 7 pounds 5 ounces and 20.5 inches long. In a Facebook post to the McCallum Choir page, Kashdan announced the arrival of her daughter to the choir community and expressed the gratitude of her and her husband, Lee Kashdan.
"In the midst of a crazy time, we have had a pretty exciting week!" Kashdan said. "We finally got to meet Acadia Claire Kashdan! … Lee and I are tired, but we're doing well."
Kashdan will have a whole new set of responsibilities to juggle as a working mother next year. It won't be easy, but Kashdan believes she is up to the task.
"It is hard, and I'm not quite sure how I'll navigate it all," Kashdan said. "It's going to take some figuring out to balance… but I think that's also a common thing for a lot of women, whatever industry they're working in if they're a mother. No real answers yet, we'll have to see!"
Kashdan has plenty of time at home to figure out that balance, but until then, the McCallum choir students will adjust to a new way of working remotely as a choir under quarantine. These virtual lessons will be led by assistant director Tyler Mabry and will consist of mostly short solo work to be completed individually. In an email Mabry sent out to the choir families, he outlined his vision for the rest of the year.
"We want to create some opportunities for you all to make music together and improve our skills as a choir, without putting too much on your plate," Mabry said.
 While it remains to be seen how choir proceedings will continue through the 2019-2020 school year, Kashdan's students look forward to seeing her again, whenever that may be. Although she enjoyed Nelson's direction, sophomore Charlotte Bearse joyfully awaits Kashdan's return.
"I do really like the way Mr. Nelson has taught so far," Bearse said. "But yes, I do miss her [Kashdan] a lot."