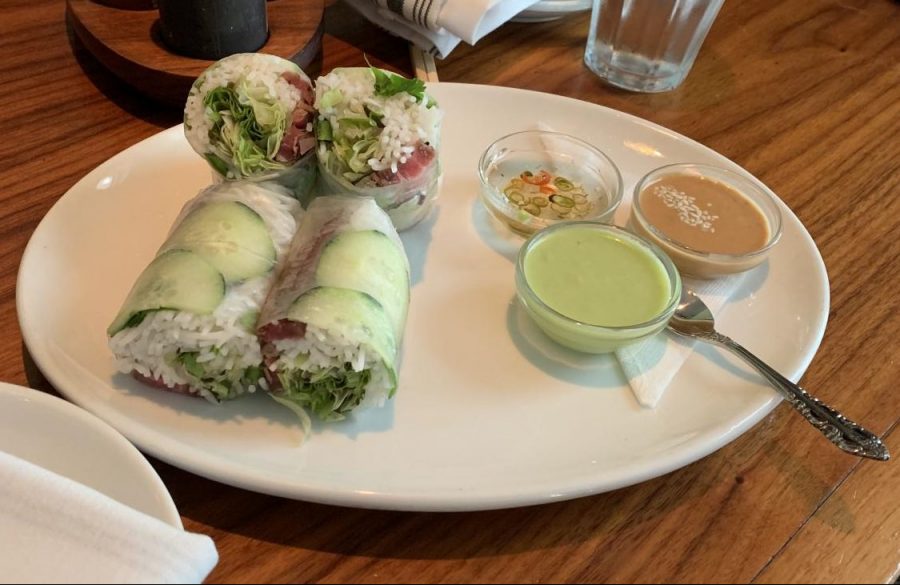 Steele Bradford
Elizabeth Street Café: a vibrant restaurant that has left me craving Vietnamese cuisine time and time again, and wishing that I didn't have to conquer traffic in order to get another taste.
The restaurant, located on South First Street, just a six-minute drive from the Texas State Capitol, is a favorite among locals and tourists alike. After entering through the café's pastel pink doors, you will find yourself in a chic dining room, complete with a tantalizing pastries case.
I found myself strolling back to it in order to gaze upon the multitude of macaroons and mini-opera cakes after finishing my food. There is also the option to dine on an outside patio adorned with lovely sycamore trees.
Whatever option you choose, the café is as easy on the eyes as it is on the pallet. Between the dishes, I tried, the shrimp and pork crepes proved to be my favorite dish. The crepes were crispy, crunchy and delicious. The combination of the crunchy crepe shell with the sprout and meat filling formed a savory and satisfying entrée.
For drinks, my friend and I ordered a Vietnamese coffee and a mocha: both tasted strong and full-bodied.
Although it isn't the kindest to your wallet, Elizabeth Street Cafe is a great place to visit, not only for the unique design but of course the cuisine, which has definitely impacted my opinion of Vietnamese food.