In Austin, 'Tonight Show' is a three-Knight show
Senior works on tech crew; alums appear in show intro
The Tonight Show with Jimmy Fallon YouTube channel
Jimmy Fallon brought The Tonight Show to Austin on Nov. 7 and filmed an episode centered around UT, highlighting both its students and campus. Fallon also included actor Matthew McConaughey, rapper Gucci Mane and TV stars Chip and Joanna Gaines.
These celebrities, however, are not the only locals who had a role in the show. Three people who helped make it happen have McCallum roots: senior Stella Shenkman and alums Hannah Ilan and Ally Morales.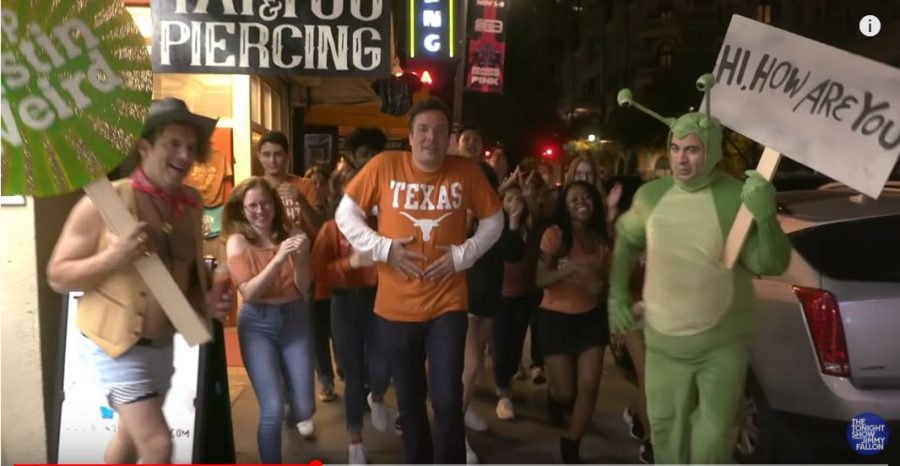 Shenkman, a tech major, was hired to help set up the show before the crew arrived.
"I was working with a group of adults, putting up speakers and just preparing the theater for Jimmy," she said.
Though only 17, Shenkman worked long hours doing intense work with seasoned professionals.
"
It was very interesting to see how much production goes into 2 to 3 minute intro video."
— UT undergrad Hannah Ilan, Mac Class of 2016
"It's really hard working with professionals who expect you to 'go go go' when you're just a kid," she said, "but it's also one of the cool parts. When you actually get something right, everyone around you is proud of you because they want to see young people grow."
Shenkman said her backstage experience helped her handle the workload of producing a show.
Ilan and Morales, Mac alumni and current UT students, were hired as extras for the skit titled "Jimmy Performs 'Thank God I'm a Country Boy' on the Streets of Austin." They, along with other UT students, followed Fallon on his "journey" throughout the skit: proving that he was a "country boy" who could fit in in Austin, Texas.
"The idea is that Jimmy Fallon walks into Hole in the Wall, a bar on Guadalupe, and he meets students and gets us excited about [how he is] a Texan and a Longhorns fan," Ilan said. "We follow him down to Sixth Street and then to campus and we run around campus. As we're running around all over town, he picks up a bunch of different characters and students and then we all end up in the Bass Concert Hall."
Before they arrive at Bass, they make a stop at DKR where the crowd connects with a host of UT groups including the UT band led by drum major Morales.
"Overall, it was a really cool and interesting experience," Ilan said. "It was very interesting to see how much production goes into 2 to 3 minute intro video, and it was interesting to see how The Tonight Show staff interacted with us."