A moment with student band "The Death Aquatics"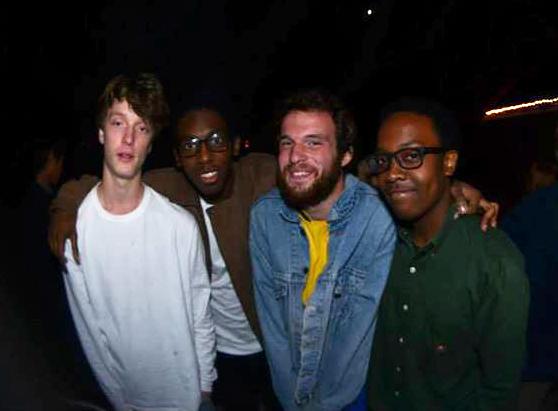 a moment with
The Death Aquatics
The Death Aquatics is a band made up of McCallum students. Pictured from left to right are seniors Trey St. Romain, Tafari Robertson, Hayden Steckel, and Nathan Kareithi. Photo provided by Tafari Robertson.
The Shield: Where did the name of the band come from?
Senior Tafari Robertson: The name for The Death Aquatics came from this movie by Wes Anderson called "The Life Aquatic" with Steve Zissou. We just switched the "life" to "death." It's just a funny phrase I thought of a while ago.
S: How long has the band been playing together?
TR: A little more than a year now. We started last year, which was my junior year, around winter break.
S: How would you describe the genre of your music?
TR: If it was on iTunes, it would probably be put in Indie. But a lot of stuff is put in Indie. Since there are three people writing songs separately, some of our songs sound really mellow. A lot of Nathan [Kareithi]'s songs are super-mellow and chill. Hayden [Steckel] writes really folky songs, and I write folk or sometimes rock Indie. Nathan sometimes writes punk Indie too.
S: What is the songwriting process like?
TR: We don't do very many covers at all. We write a lot of songs. There are four members, but me, Nathan and Hayden do a lot of songwriting. It's almost always all original music. A lot of times, we write the songs separately, but then we bring it together and write parts for each other's songs. But lately we've started writing songs together and just jamming.
S: Where do you play?
TR: I really like playing around Austin because we don't play very many shows where we get to tell everyone to come because we're usually playing for someone's birthday. We've played at Spiderhouse Ballroom, which we did over winter break, we should be playing there again soon. We also played at Cherrywood Coffee House and Kenny Dorham's Backyard over on the East side. We played at Gullett Elementary School; we've played Lamarfest. The Spiderhouse show was really good because we usually have to bring our own stuff so we don't have a PA or anything; it's just our amps. So the Spiderhouse show was one of the first shows we got to use a bass amp. We could hear ourselves and the audience could hear the vocals and understand what we were saying. It's basic things that you think of, like being able to hear, but the show was the first time that that was really good.
S: You are trying to win the Austin Chronicle award for best "under 18" band of the year. What would this mean for the band?
TR: Basically, if we were to win that, it would be "super press" because we would get posted in the Austin Chronicle, and then I think we would go the Austin Music Awards over spring break. It would be kind of funny because there are a lot of bands under 18 that play around Austin that have a lot of connections and should probably win, but we do a lot of house shows and just play for friends right now, so it would be interesting if we won.
To vote for The Death Aquatics, visit the Austin Chronicle music polls.