2018 Knight staff captures 42 Best of Texas awards
State journalism teacher association recognized Mac yearbook for excellence in writing, design, photography
The Texas Association of Journalism Educators announced today that the 2018 McCallum yearbook staff captured 43 individual awards–the most of any school–in the association's annual Best In Texas Yearbook Contest.
The dynamic yearbook duo of junior Ella Irwin and sophomore Abby Robison led the way among returning staffers by winning five awards for work they did together for the 2018 yearbook. The tandem also won two of the five superior awards, the highest level awarded.
"
I love the feeling of working with a team and towards a final end product. I feel that in years to come I'm going to be proud looking back on all the hard work that I've done."
— junior Ella Irwin
Irwin and Robison won superior awards for two organization stories that appeared on pages that they also designed. The page designs were also among the yearbook entries that won awards. Junior William Wilson was also a part of five winning entries.
Irwin said she was most proud of the work that she and Robison did covering Spectrum, a club that promotes tolerance and provides a safe space for students regardless of gender identity or sexual preference.
"I felt like it was important to highlight the amazing work that this organization was doing to make everyone on campus feel welcome and accepted," Irwin said.
A group of their fourth-period classmates from last school year–Mira MacLaurin, Lily McCormick and Wilson–earned a superior award for their infograph that appeared on the JV football spread.
"
I really enjoy everyone on the staff and getting to create something that the whole school gets to see. The awards are just a nice bonus."
— sophomore Abby Robison
2017-2018 Knight managing editor Madison Olsen earned a superior award for her photo of the 2018 Women's March in downtown Austin. Olsen was a part of 12 of McCallum's 42 winning entries.
Senior Sophie Ryland, currently co-editor in chief of the Shield newsmagazine, won the final superior award for her story the chronicles how Hurricane Katrina  impacted the McCallum community.
While the big award day was nice, Irwin and Robison both said that winning awards is not why they commit to being dedicated yearbook staff members.
"I love the feeling of working with a team and towards a final end product," Irwin said. "I feel that in years to come I'm going to be proud looking back on all the hard work that I've done."
"I really enjoy everyone on the staff and getting to create something that the whole school gets to see," Robison added. "The awards are just a nice bonus."
All of McCallum's TAJE Best in Texas yearbook winners are listed below: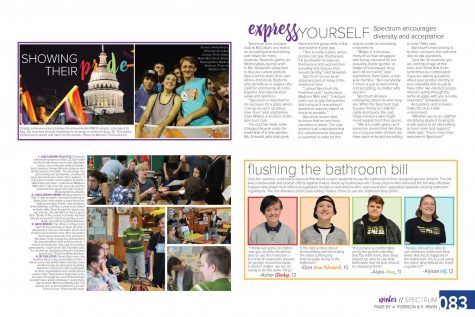 SUPERIOR (5)
Ella Irwin, Abby Robison, Organizations Copy
Ella Irwin, Abby Robison, Organizations Copy
Mira Maclaurin, Lily McCormick, William Wilson, Infographics
Madison Olsen, Human Interest Photo
Sophie Ryland, Organizations Copy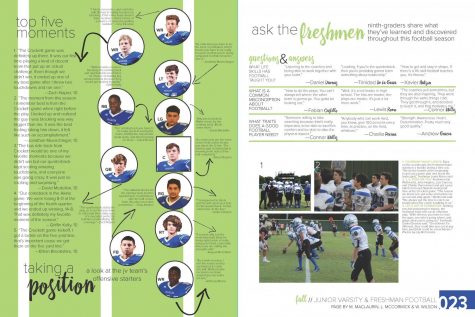 EXCELLENT (21)
Ella Irwin, Abby Robison, Sidebar Presentation
Jacqueline McClellan, Sidebar Presentation
Lily McCormick, Madison Olsen, William Wilson, Alternative Copy
Delaney Carter, Audrey Sayer, Alternative Copy
Georgia Boutot, Celeste Montes De Oca, Excellent
Elena Henderson, Kennedy Schuelke, Sports Copy
Elena Henderson, Kennedy Schuelke, Madison Olsen, Student-Designed Cover
Kennedy Schuelke, Elena Henderson, Madison Olsen, Student-Designed Endsheets
Ella Irwin, Abby Robison, Academics Spread
Madison Olsen, Margaret Olsen, Maddy Stine, Alejandro Serna, Academics Spread
Elena Henderson, Kennedy Schuelke, Sports Spread
Madison Olsen, Sports Spread
Rylie Jones, Georgia Boutot, Sports Spread
Madison Olsen, People Spread
Madison Olsen, People Spread
Madison Olsen, Student Life Photo
Kelsey Tasch, Student Life Photo
Annabel Winter, Organizations Photo
Madison Olsen, Organizations Photo
Joseph Cardenas, Portrait
Ciera Medrano, Sidebar Presentation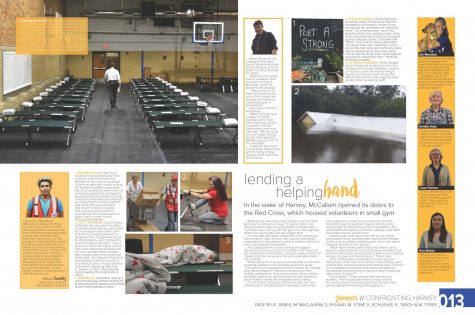 HONORABLE MENTION (16)
Coco Clouse, Kimberly Cochrane, Sidebar Presentation
Elena Henderson, Caption Writing
Staff, Caption Writing
Madison Olsen, Infographics
Jacqueline Mclellan, Academics Copy
Maddie Doran, Sports Copy
William Wilson, Sports Copy
Elena Henderson, Dividers
Georgia Boutot, Ian Clennan, Lily McCormick, Academics Spread
Kien Johnson, Ian Clennan, Mira Maclaurin, Academics Spread
Abby Robinson, Ella Irwin, Organizations Spread
Grace Brady, Maddie Doran, Madison Olsen, Abigail Salazar, Sports Spread
Lily McCormick, Madison Olsen, William Wilson, Sports Spread
Mira Maclaurin, Lily McCormick, William Wilson, Sports Spread
Bella Russo, Sports Action Photo
Ian Clennan, Sports Action Photo