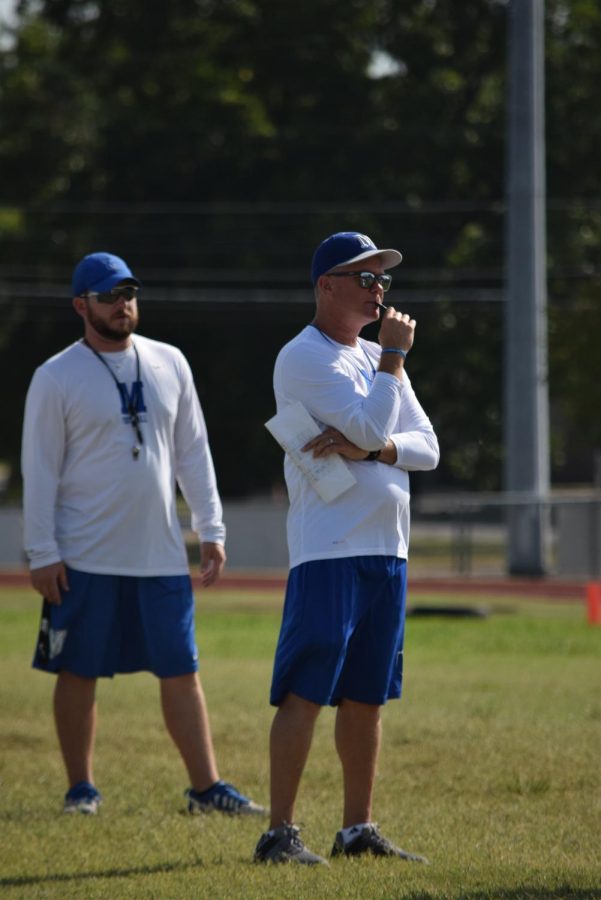 Dave Winter
You may know Steve Searle as your algebra teacher or your coach. But what you might not have known is that even though this is his first year at McCallum, he has been connected with it for a couple of years now. For nine years prior to this one, Searle was teaching math and coaching football and baseball at Lago Vista High School.
There, he met current McCallum coach and teacher, Brandon Grant. As they started to become better and better friends, through Grant's wife, Searle met another current McCallum teacher, the former Nancy Honeycutt. Now, they are married and Searle has come to Austin to teach with his wife and his best friend.
Searle says that he's always known, right out of the University of Nebraska in 1990, that he has wanted to be a teacher and a coach.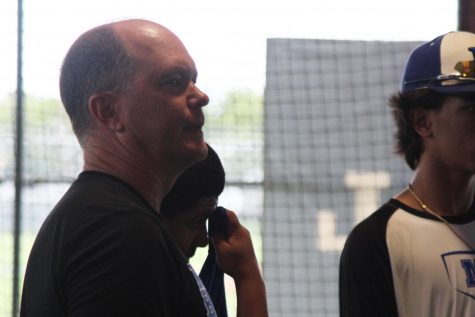 "I've always taught, right out of college, taught and coached …. 18 years in California, then another nine years in Lago Vista. … I started out my major in chemical engineering, but then I switched over got my bachelor's in mathematics education. I didn't like the time in the lab. I'm much more around people."
He also knew that algebra was the class he wanted to teach, thinking it is an important math class everyone needs to take.
"Second year algebra, to me, is the gateway mathematics class," Searle said. "If you can build a strong foundational understanding in that class, no matter what your college major is or where your life takes you, I think it really gives you some good critical thinking skills and problem solving strategies."
At Lago Vista, he coached with current McCallum teacher Coach Grant. As he and Grant became better friends, Grant's wife introduced Searle to another current McCallum teacher, the former Ms. Honeycutt.
"[Grant's] wife Taylor and I were friends, and then kind of, through friends, they kind of set us up," she said. "It was good. We went to dinner and yeah. Working together is good; it's nice to get to see him every day; last year he taught at a school that was totally the opposite direction, and so it was like we'd say goodbye in the morning and see each other 10 hours later! So, you know, it's cool being able to see him every day, and we know what's going on in each other's lives and stuff just from stuff going on at school," she said.
"I came [to McCallum] one, to work with my wife, and two, to work with my best friend," Searle said.