Davis stars as Davey in AISD musical: 'Newsies'
MacTheatre veteran closes high school theatre career in summer show that opens Friday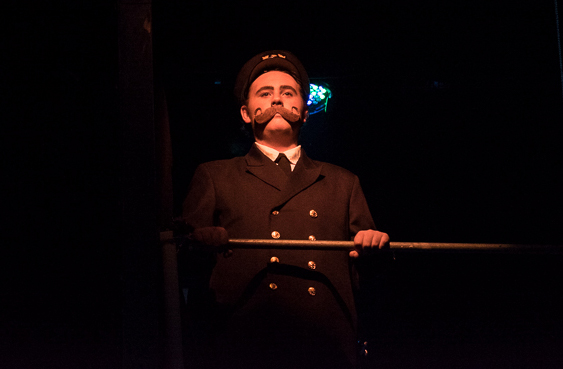 Hang on for a minute...we're trying to find some more stories you might like.
Class of 2018 graduate Tryston Davis plays the role of Davey in the AISD musical Newsies, which premieres this Friday at the AISD Performing Arts Center in Mueller. You can catch the show at 7 p.m. on Friday, at 2 p.m. and 7 p.m. on Saturday, and at 2 p.m. on Sunday. To purchase tickets, click here.
The Shield: Why did you start performing and how long have you been at it?
Tryston Davis: I've been performing musical theatre since I was in eighth grade, when I teched for the Grease musical at Lamar, and ever since I've been doing the musicals at McCallum.
The Shield: What do you view as your first big success?
TD: My first success was probably landing my first legit role in Titanic: The Musical sophomore year. I played first officer Murdoch; he was one of the most trusted people on the ship, and he was the one who actually crashed the ship.
The Shield:
You and your brother [rising senior Cole Davis] are both super involved at Mac but in very different ways. Does he get excited for your theatre stuff and do you get excited for his football stuff?
TD: Absolutely, Cole is actually one of my biggest supporters in my family. He comes to all my shows, and I come to all his games. Sometimes, I leave rehearsal early just so I can make it to his games.
The Shield: What was the first play you did for McCallum and what sort of role did you play?
TD: The first play I did for McCallum was Titanic. I absolutely loved it because the music surrounding the role of officer Murdoch is so beautiful, very melodic, but also intense; it's just overall incredible.
The Shield: What has been your favorite role so far and why?
TD: Honestly, I think my current role as Davey in Newsies is my favorite role so far, just because he's always there, being the smart one. He's definitely my favorite role acting wise and vocal-wise.
The Shield: Have there ever been roles that you auditioned for but didn't get?
TD: When I was auditioning for Newsies, I actually was hoping to play Jack, but I got Davey instead, and I was just happy with whatever I got.
The Shield: Tell me a little bit about the AISD summer musical.
TD: I don't want to spoil too much, but, Newsies is set in the 1800s, and it's about a group of newsboys who just found out that the bad guy in the play, Pulitzer, wants to raise the price of newspapers. There is an outrage among the community, and the play is about them fighting back against Pulitzer.