#JacksonMeetsEllen
Hang on for a minute...we're trying to find some more stories you might like.
Sophomore Jackson Sutton was featured in The Shield last spring for his outstanding achievements in linguistics as well as his passion for art—talents which he had always hoped would someday land him a seat on stage next to his hero, Ellen DeGeneres.
Sutton, diagnosed with autism at age 4, has been watching The Ellen Show since fourth grade and hasn't been featured on the it yet, but he's gotten close: on Sept. 18, he sat in her studio audience.
"To say he is happy [about going to see Ellen] is an understatement," Jackson's mom, Rene Craft, wrote on Jackson's website, jacksonseyetv.com, before the two of them flew to Los Angeles for the taping. "He has been watching the show and been positively influenced by all things Ellen for years. He just recently said, 'Even though Ellen never notices me, I will still be kind every day.'"
SCORES teacher Christopher Purkiss and teaching assistant Andrew Cooke posted to their Twitter accounts using the hashtag #JacksonMeetsEllen before the show to try and make the dream of Ellen noticing Sutton a reality.
This much anticipated encounter has not happened yet, despite attempts at catching the star's attention by Sutton's teachers and mother.
"[Jackson's] mom has tried tons of times. She's definitely tried for Ellen, like she's emailed Ellen, sent letters to Ellen, sent Ellen his artwork, like tons of stuff," Cooke said.
Craft's correspondences have gone unanswered by Ellen, but a family friend managed to get Sutton tickets to a taping of The Ellen Show as a 16th birthday present.
"When he was given these tickets by a good friend, whose daughter works in LA, he said, 'I will treasure this till my dying day,'" Craft said. "And he means it. He will never forget this."
His excitement didn't stop there. Sutton made sure his friends at school knew about the news as well.
"He came into [the classroom] and he was like, 'I've got an announcement!'," Purkiss said. "He made everyone be quiet and he filmed our response. He said, 'I'm going to see the Ellen show!' And we all screamed and yelled, and he was clearly recording to show his mom. It was very fun."
Sutton woke up the morning of his 16th birthday and headed down to the long-awaited taping with Craft and his godmother, whose birthday was the next day.
"When [Ellen] went through the audience for her big entrance, it was such a surprise," Sutton said.
Sutton's surprise didn't just come from the experience of being in the audience, though.
"Ellen came in from the back of the theater and Jackson put out his hand to touch her," Craft said. "He didn't quite reach her, but he was very close to her as she came down the aisle."
According to Craft, The Ellen Show has helped Sutton with his autism because it was one of the first things from the "outside" world that helped him add more social components to his life.
"She's not just a comedian, she's a philanthropist," Sutton said.
About the Writer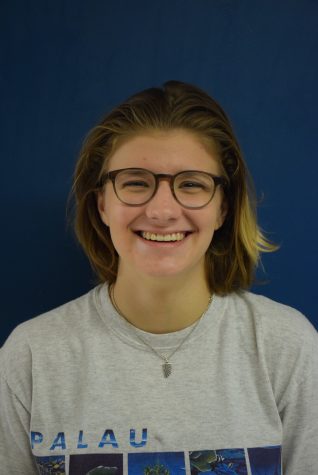 Charlie Holden, Co-editor-in-chief
Senior Charlie Holden is in her third year as a Shield staff member. This year she is the co-editor in chief as well as a writing center tutor, a PAL, and an Art Academy Major. Charlie's favorite foods are queso and pickles (separately).