Fernandez signs with Southwestern
Hang on for a minute...we're trying to find some more stories you might like.
Photos by Tony Lavorgna, Adrian Peña, Sam Selis and Dave Winter.
There are some unwritten rules when it comes to voting for the Most Valuable Player in a professional sports league or a high school sports district.
One of those rules is that to be an MVP, your team has to have a successful season.
Consider the reigning 2016 MVP's of the five major sports in the U.S. as cases in point.
Most of them are on champions or near champions, including Stephen Curry of the NBA Finals-bound Golden State Warriors, Matt Ryan of the Super Bowl runner-up Atlanta Falcons and Kris Bryant of the world champion Chicago Cubs.
All but one of the six MVPs in the five major pro sports played on teams that made the playoffs in 2016.
You just don't get to be MVP very often if you are on a team that struggles.
To do so, you have to be so clearly outstanding, so memorable, so noble, so … superlative … that you can't be overlooked.
"The dictionary defines superlative as 'of the highest kind, quality or order, surpassing all else, or others.' I define it as Sacco Fernandez," said Reilly Bennett, Sacco's teammate, friend and fellow senior. "As a soccer player, as a leader, as a man, he is of the highest kind, quality and order."
The coaches who voted Fernandez the 2017 All-District 25-5A Most Valuable Player agreed.
Despite the fact that the Knights finished near the bottom of the district standings, opposing coaches saw something special, something most valuable, in Fernandez's play.
His coach, Nick Martin, agreed with the other coaches, that Fernandez deserved to be the district's MVP.
"Sacco has been the heartbeat of our team, both this year and last," Martin said. "He kept us moving forward, even when things were tough."
On Wednesday, Fernandez signed a commitment letter to play soccer at Southwestern in a morning ceremony in the Mac library.  While the ceremony was dedicated to his considerably bright future, the day was also a chance for his coach and teammates to gather and celebrate their team leader one more time.
"Sacco has been a leader and a brother to all of us," said Matteo Sarmiento, who has played with Fernandez for the past six years. "Sacco has been a role model, on and off the field."
Perhaps that's why Sarmiento and the rest of Fernandez's teammates were there in the library on Wednesday to cheer on their teammate and captain one final time. Fernandez said that when he looks back on Wednesday's ceremony, he will most remember he said seeing all of his friends and teammates together.
"I really love this school," Fernandez said of McCallum. "I remember going to Mac games when I was in middle school and thinking that one day I wanted to be out there playing for McCallum. I feel really good to play for something bigger than yourself or a club."
He wasn't just playing for something bigger; he was playing big … period.
"He's an extraordinary soccer player," Sarmiento said. "I remember all of his goals and the leadership role he had on the team. He's one of the best captains ever."
Fernandez played hard in part because his motivation came from a noble purpose.
"Knowing that you represent the whole school and all of your classmates and teachers makes you play harder," Fernandez said. "I knew from the moment I got to McCallum that one day, I wanted to be captain of the varsity team and the all-district MVP, so it feels really good to achieve that, and I'm proud to have done it wearing McCallum colors."
After graduation, he may be changing jersey colors, but Fernandez can't change his true colors.
He said he chose Southwestern in part because he has a chance to start next year as a freshman, but mainly, he picked Southwestern because it's a school that he has heard only good things about.
It's a school he might come to love, a school he might love to represent when he plays the game he loves.
It sounds like a worthy sequel to a wonderful original movie.

About the Writer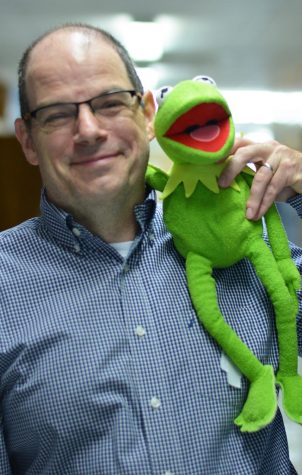 Dave Winter, adviser
Dave Winter has been advising publications since well before his current students were born. In the spring of 1993, while a floating first-year teacher...