Turning the Page: Unanimous All-District catcher earns four varsity letters
Hang on for a minute...we're trying to find some more stories you might like.
By any standard, Tyler Page, a unanimous selection as the All-District 25-5A catcher, has been the heart of the baseball team this season and for the past four seasons.
The only player on the team to earn four varsity letters in baseball, he has been the Knights' catcher through four district championships, more than half of the team's historic seven-title run.
"Tyler was a great leader for our team," said senior Ben Wangrin, Page's varsity teammate for three years. "Whenever we were having a rough practice, he was the first person to say something and urge us to pick it up a little bit. He was also a fun guy to have around, and it was fun few years playing together."
The coach of the defense as catcher, Page was also the spark for the offense as the team's leadoff hitter. He was the only Knight with more than 100 plate appearances for the season, and he tied for the team lead in doubles with seven and led the team in walks with 27 (only one other player had half that number).
When asked for a favorite individual moment, Page said typically, "It's not about me. It's about the team. I'm most proud of how we came together. We would not have been very good if wouldn't have been able to do that."
Page told MacJournalism that he could not isolate a turning point where the team came together or a specific game that stood out against the others. Rather, he said, "I'll remember the love of playing the game every day."
He did however share a favorite story, and it was from a practice not a game. One day during his junior year, Page climbed up on the roof above the math hallway to shag some home run balls that were stuck on the roof. While he was up there, teammate Mason Bryan hit another homer, and Page moved to his right to catch it on the fly.
"When I caught the ball, I went to go take my next step, and there was nowhere for me to step, so I fell 25 feet down, and while I was on my way down, I thought I was gonna die." Page landed face first and at first couldn't breathe. He thought he had broken a rib but had only had the wind knocked out of him. A hairline fracture in his wrist caused him to miss a few games, but the came back in time for the Knights' district and bi-district titles that year. "Someone was watching over me that day," Page said. Over him and the Knights.

About the Writer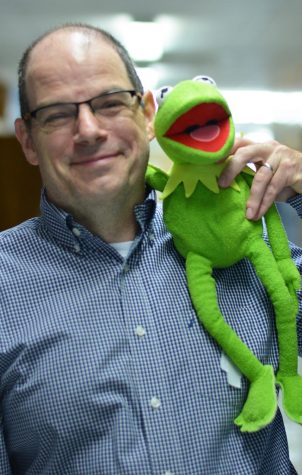 Dave Winter, adviser
Dave Winter has been advising publications since well before his current students were born. In the spring of 1993, while a floating first-year teacher...