Row, Row, Rowing to college
Julie Robertson
April 21, 2017
Filed under Sports
Hang on for a minute...we're trying to find some more stories you might like.
Junior Kate Knifton trains for rowing in college, discusses what it takes
to get there
The Shield: How long have you been involved in rowing?
Kate Knifton: I have been rowing since August of sophomore year so for about a year and a half.
TS: How did you get into rowing?
KK: My dad owns Texas Rowing Center, which is the club that I row at. He is a really serious about rowing, so he got me into it.
TS: How did it feel to be committing to University of Texas and knowing you'll be able to go there?
KK: It was really exciting because ever since I had my unofficial visit to UT earlier in the school year, I knew I wanted to go there, and whenever I had an offer made, it was the most exciting thing, and it really took a huge weight off, but it also gave me a goal to keep working hard for the rest of my high school career. But it's super nice because I know exactly where I am going and I know what I need to do to be the best at I can be when I get there.
TS: What are you thinking of studying in college?
KK: I think I am leaning towards studying business or pre-med.
TS: Is it common for someone who has not been rowing for very long to be committing to a D1 school?
KK: I think that committing to UT this early is not that common, but with rowing you don't really have to start very young because you have to wait until your muscles can be as strong as they can be, and you're fully grown, so it kind of ranges because a lot of people have been rowing since middle school, and a lot of people joined freshman and sophomore year like I did.
TS: How many people are there on your team?
KK: Our team has 45 people; that's the girls team. Our club total has probably more than 100 people. There's also different boat sizes. There's a four-person, a double, an eight-person and a single.
TS: What is your favorite boat to row?
KK: My favorite is probably the four- or eight-person because I like the bigger boats because they go faster.
TS: What does a normal day of training look like for you?
KK: This isn't everyday, but if we're training for a regatta competition and need extra training, then I wake up at 4:30 for 5:15 practice that goes until 7. Then we have practice everyday after school from 5-7. Sometimes I like to go to the gym or go home and train on my ERG and lift weights in the morning or after practice in the afternoon.
TS: What is a regatta?
KK: A regatta is where a bunch of different crews come together and you race. There are three different types of distances that I have raced: the 5,000 meters, 2,000 meters and 1,000 meters. Depending on the regatta, people will come from all over the country or even sometimes other countries.
TS: How often do you travel to other places for regattas?
KK: I travel to other states pretty often for regattas, especially during the spring. We go to Tennessee, San Diego, Oklahoma two times, and during the summer I went to Canada and Ohio.
TS: What sort of U.S. team were you just accepted on?
KK: I was accepted on the U.S. High Performance team, and it is people from all different states, and there are other people from different countries, too. They train for the U.S. Team and compete. Depending on what team you make you can compete with other countries or just compete within the U.S.
TS: How did you get recruited for that?
KK: My coach had been sending in my stats and results from different regattas this year and then I was invited to this virtual camp where you do a bunch of workouts and send in all your scores for them to evaluate you. I went to Boston a few weeks ago where you do aERG test for them and you do some rowing and they get your height, weight, and all your stats and then that's how they identify who they pick for the U.S. team.
TS: What is your goal for rowing?
KK: My goal for the end of summer of my senior year is to be on the Juniors National Team which is the highest level of the camp that I go to. That is the team that competes in Lithuania against teams from all over the world.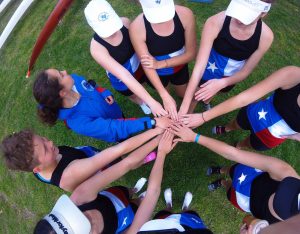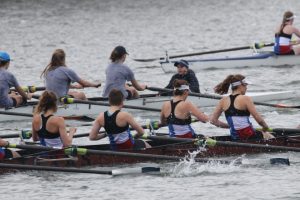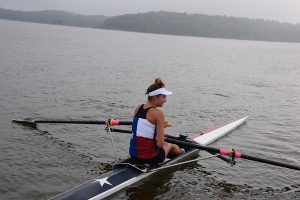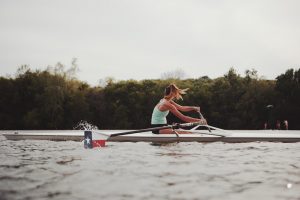 Photos Courtesy of Kate Knifton.