What's at stake: McCallum vs. Cedar Creek
Story by Ben Brown Photo by David Winter
November 4, 2015
Filed under Sports
Hang on for a minute...we're trying to find some more stories you might like.
The Knights are in a situation that they have not been in the last 13 years.
Tonight at 7:30 p.m., they will take on Cedar Creek at Bastrop Memorial Stadium for the final playoff spot in District 26-5A.
The Knights (3-3 in District 26-5A) have made the playoffs for the last 13 years, the longest playoff run in AISD. The Knights have the second longest streak in the Austin area only behind Westlake.
Cedar Creek (also 3-3 in District 26-5A) is at the opposite end of the spectrum. The Eagles have never made the playoffs during their short five-year history and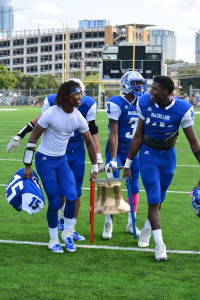 have not even come close in their past seasons. 2015 marks the first season that Cedar Creek has had more than one win.
There are two very different teams with two very different things at stake. Neither team is likely to advance into the second round because of the strength of the first-place opponent they will play in the first round, but a playoff appearance would mean very different things for both teams.
The last time McCallum didn't make the playoffs was my older brother's junior year in 2002. That means the current playoff streak started in his senior year. It would be quite an unfortunate coincidence if the streak were to end my senior year. But all family ties aside, McCallum, a team that relies as much on underclassmen as any team, desperately needs playoff experience if it wants to have success in the years to come.
McCallum is just expected to make the playoffs. That's what the school and fans have come to expect. For Cedar Creek, it would just a historic accomplishment for a program that's been a second-division team throughout its previous four years.


Update: McCallum lost by a score of 24-13 missing the playoffs for the first time since 2002.