Going the distance
Natalie Murphy
March 3, 2015
Filed under Sports
Hang on for a minute...we're trying to find some more stories you might like.
Students run the Austin Marathon
Senior Thomas Magnuson said that crossing the finish line during the Austin Marathon on Feb. 15 felt amazing.
"It's such an accomplishment," Magnuson said. "The sprint at the end when there's a lot of people cheering you on makes you feel kind of special."
Magnuson ran the race alongside his cross-country teammates Adam Freng and Alonso Fernandez. After four years of running competitively, Magnuson said he was ready to challenge himself more.
"I enjoy long distance running because it's something I can control, how fast I run," Magnuson said, "so I just wanted to test myself to see how far I can go."
Fernandez said the race helps build confidence.
"I get a lot out of it," Fernandez said. "If you finish a marathon, you feel like you can do anything you put your mind to. It's nice to be out there and have everyone supporting you."
Since the race took place in the middle of soccer season, Fernandez said it took away from his performance as team captain.
"[Training] was kind of rough because it was in the middle of soccer season," Fernandez said, "but I would go run on the weekends every now and then, go to Town Lake and try to get some miles on. I had to miss a game afterwards because it was two days after. I thought I'd be ready for the game, but I wasn't because my body was still recovering."
Magnuson had to deal with an injury before the race.
"I hurt my leg the week of the marathon," Magnuson said. "I thought I'd heal by the marathon, but I didn't, so mile one through mile 20, I was working on a hurt leg. That was just a mental challenge. It was really all in my head, like I just had to kind of suck it up and keep going, so the first 20 miles were kind of difficult."
According to Fernandez, the hardest part of the race is the end.
"The last six miles were super-rough," Fernandez said. "I got a bad cramp at mile 20, so I had to stop and stretch it out. It seemed like it would never end, but it was definitely worth it because when I finished, I was super-happy."
As the biggest race in Texas, the Austin Marathon attracts runners from around the country. According to Fernandez, the reason for the marathon's popularity is the city itself.
"It's a nice way to get to know the city," Fernandez said. "[Because of] the whole 'Keep Austin Weird' thing, there's a lot of quirky stuff like funny signs and people dressed up. People aren't afraid to do something different."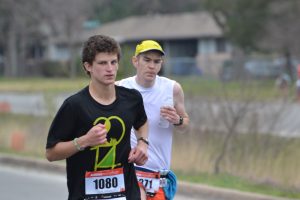 Magnuson said the support of the city is what makes the race so special.
"There are a lot of people out on the streets supporting you as you run, and everyone is really humorous about it," Magnuson said. "You know, there's like beer stops, just kind of laid-back. It's not very professional. Also, the scenery is really beautiful."
For Fernandez, running a marathon goes beyond exercise.
"If you like running, do it," Fernandez said. "It's really cool. It's a great thing to accomplish, and it really shows that if you put your mind to something, you can do it. People think you're crazy to do a marathon, but it's not such a crazy thing. There's a lot of good life lessons that you learn."