Football players make All-District teams
Mara Vandegrift
December 21, 2014
Filed under Sports
Hang on for a minute...we're trying to find some more stories you might like.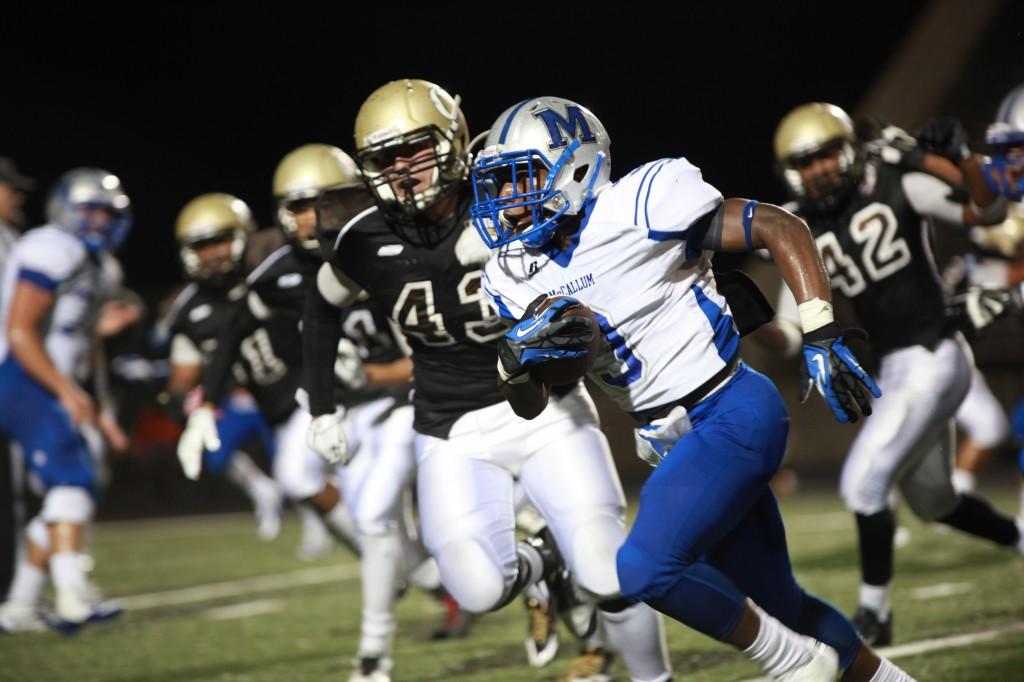 Senior Sabian Cannon was at the LBJ vs. Vandegrift game, the fourth round of playoffs, when he got a call from head football coach Charles Taylor.
"He was like, 'How does it feel to be the repeating district MVP?'" Cannon said. "I was like, 'It feels good!'"
Cannon made first All-District team and 26-5A Most Valuable Player (MVP), for the second year in a row. He's just one of the many McCallum football players who made both first and second teams.
"It felt good that I repeated a good performance that I did last year," Cannon said. "Last year I had a better year because this year I broke my thumb."
Cannon said making the All-District team gives him more credibility to other teams and coaches.
"I want to go to school and play football," Cannon said. "It was good that I got MVP again because when coaches look at that, they can look at me and see that they have — I don't want to say that I'm bragging on myself — a good player."
Along with this credibility boost, Cannon said he is encouraged to play in college more now.
"This encourages me a lot to do better," Cannon said, "to go to college and try to be the MVP on that team or try to be a good player on that team too and help out a lot."
McCallum football players that made All-District teams:
District MVP-Sabian Cannon
1st team offense-
Clement Jones-RB
Rosevelt Mathews-WR
Xavier Castillo-G
Brent Chandler-T
Jacob Carter-K
2nd team offense-
Manny Berrelleza-TE
John Aguilar-C
Jon Martinez-G
Jayson Garcia-T
1st team defense-
Manny Berrelleza-OLB
Dedric Johnson-S
Rosevelt Mathews-CB
Clement Jones-Ret. Spec.
2nd team defense-
Xavier Castillo-DT
Carter Fowler-ILB
Tyree Washington-S
Terrance Mitchell-CB
Jacob Carter-P
Honorable Mention-
Byrant Duran-DE
Joseph Weathersby-DE
Zach Oakman-DT
John Aguilar-DE
Luke Whitefield-LB
Andre Blakemore-LB
Klaliyl Burns-WR
Toni Likam-S
Greg Jaimes-DT
Jessie James-RB
MVP = most valuable player
RB = running back
WR = wide receiver
G = offensive guard
T = tackle
K = kicker
TE = tight end
C = center
OLB = outside linebacker
S = safety
CB = cornerback
DT = defensive tackle
ILB = inside linebacker
P = punter
DE = defensive end
LB = linebacker