Imagine a music studio on wheels
Samantha Harwood and Aiden Foster
November 7, 2014
Filed under News
Hang on for a minute...we're trying to find some more stories you might like.
John Lennon Education Tour Bus stops at McCallum; fine arts students write, record song
Eight fine arts students got the opportunity to spend their school day on the John Lennon Educational Tour Bus when it made a stop at McCallum Oct. 30 on its seven-city nationwide tour.
"It's a bus that has a very nice sound recording equipment," senior Thomas Magnuson said. "Sometimes it is used by professional artists to record, but most of the time it travels around the country teaching kids about writing recording and producing music."
The bus houses three cutting-edge studios as well as a green screen booth. The studio is a non-profit outreach program that provides interactive music programs to schools, clubs, concerts, conventions and other organizations. Artists like Justin Timberlake, Natasha Bedingfield and John Legend have recorded on the bus, which is supported by Yoko Ono, Lennon's widow.
"Last year, [Fine Arts Director] Kalyse McEvleen asked me to make a one-minute video about why music education at McCallum is so awesome," Magnuson said. "She wanted me to submit it to a competition held by NAMM (National Association of Music Merchants), and my video won. The prize was the bus coming to McCallum as well as giving some nice [fine arts-related] things to the school."
The students spent the entire school day on the bus recording and producing music.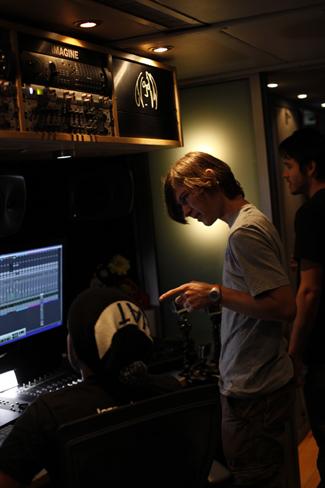 "The day was mostly like everyone having 30 minute sessions recording the parts," junior Sofia Mock said. "I was already pretty interested in writing music, so it was definitely a cool experience for me."
During their time on the bus, the students recorded a song called "Trip." They also worked on a music video.
"You basically just wrote a song all day," junior Lauren Molloy said. "It was cool because everyone had a chance to present their own ideas. So even if everyone didn't agree on your idea, it was still awesome to be like, 'Hey, this is what I think.' It was everyone's creativity. It was cool to get to work with people outside your music group."
Daniel Reyes, a senior band student, was one of the students chosen for the experience.
"It gave kids a feel of what writing a song is about," Reyes said. "We just threw some chords down and started from there. We added melodies, then Ben [Dickerson] added lyrics, and we just added embellishments until we had created a song."
While on the bus, junior Tre Pham had the opportunity to play an electric bass for the first time and even recorded a part for the song.
The Austin American Statesman published an article Nov. 3 featuring Magnuson.
"I'm surprised it was in the [Austin American] Statesman. I didn't think it was going to be such a big deal," Magnuson said. "It was a pretty exhausting experience, but not in a bad way. Being on the bus was overwhelming but a lot of fun. I'm around music every day, and I think this experience is going to help me in everything I do, creativity-wise."
Senior Thomas Magnuson submits one-minute video
on McCallum music education to NAMM competition
Magnuson's video, submitted last year, brought the John Lennon Educational Tour Bus to McCallum last week.