Slated for production
Ramón Walker
September 10, 2014
Filed under News
Hang on for a minute...we're trying to find some more stories you might like.
 Kickstarter campaign for making AV Club production clappers successfully funded
AV teacher Ken Rogers has designed the first truly customizable production slate to replace the ones his students can't seem to keep together.
"I got tired of fixing the production clappers. They were always too weak and kept breaking," Rogers said. "I decided we could manufacture the slates and sell them as a fundraiser."
To mass-produce these production slates, the shop where they are made needed to be upgraded from its current state, so Rogers started a Kickstarter campaign to raise the needed funds.
Kickstarter is a website used to help businesses raise money to start operations. Anyone can view a Kickstarter project online and can pledge any amount of money they please.  Also, rewards can be set for different levels of donations.
Last week, Rogers' project on Kickstarter was successfully funded, meeting his pledged goal of $1,240, with the help of 25 supporters. Supporters who donated $5 – $35 will be recognized on Rogers' website as supporters, while supporters who donated over $35 will receive the new production slate and will also be recognized on the website.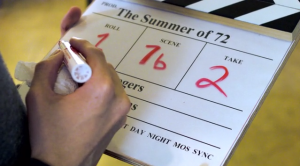 "Few people I know donated," Rogers said, "Most of the donations I got were from filmmakers that liked the slate."
Among the groups interested in the production slate was Video and Filmmaker Magazine. The magazine posted an article on Rogers, explaining how interested it is in Rogers' new and innovative design for the common production slate/clapper.
"The article really helped get it funded," Rogers said.
The new AV Club Production Slates will be handmade in Hutto from quality parts and are expected to be sent in October to supporters who donated over $35. The funds received from purchase of the new slates will be used to support the AV program.