McCallum defeats Lehman 49-42 in overtime
Hang on for a minute...we're trying to find some more stories you might like.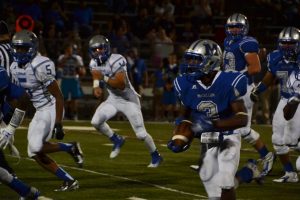 The Knights defeated the Lehman Lobos 49-42 in overtime Sept. 4 at House Park. Senior Clement Jones compiled 377 total yards and made six touchdowns for the Knights, including the winning touch down in overtime.
Fowler had his first offensive varsity start to replace injured senior quarterback Sabian Cannon.
"[Fowler] did a good job managing," head coach Charles Taylor said. "We told him he didn't have to win the football game, he just had to manage and do his job and he did a great job, last night."
After a loss in the season opener, Fowler said the players put the game against Anderson behind them and used it as motivation for the rest of the season.
"We had a lot of injuries after [the Taco Shack Bowl], so we started [Fowler] as the quarterback," Taylor said. "We didn't have a lot of changes, but the Taco Shack Bowl was the first varsity game for a lot of our kids, so we just kept working them. I think everyone got better this week, but we still need to work on fundamentals and need to get a lot of reps in during practice."
After a back and forth game, Lehman tied it up 42-42 at the end of the fourth quarter. After a failed attempt on the Knights for a field goal, the game was brought into overtime.
"All I could think was, 'We need to score,'" Fowler said. "Everyone on the team wanted it. We had no doubt in our mind that we were going to win the game, so we just buckled down and did it."
Senior Rosevelet Mathews broke up Lehman's final pass in overtime to clinch the win.
"It's a wonderful feeling to get the win," Jones said. "We had a lot of starters that were out, and they kept telling me to push, so I did it for them."
Photo gallery by Benjamin Brown and Maya Coplin