Students recognized in Austin theater awards
Christina Beck
May 12, 2014
Filed under News
Hang on for a minute...we're trying to find some more stories you might like.
   Senior Connor Barr was awarded "Best Actor in a Supporting Role" April 17 for his portrayal of Marvin "Buck" Barrow in the fall production of "Bonnie and Clyde" at the Greater Austin High School Musical Theater Awards held at the Long Center. Juniors Sage Stoakley, Janine Dworin, Sara Walls and Dominoe Jones and teacher Joshua Denning were also nominated for a GAHSMTA award for their work in "Bonnie and Clyde."
"I honestly wasn't anticipating winning the award, so I didn't prepare any acceptance speech or anything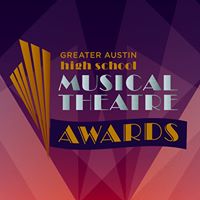 ," Barr said. "But it was amazing to get up there and feel that many people in the audience staring at you. It was intense, but an awesome experience."
In its inaugural year, the GAHSMTA partnered with ZACH Theatre and the University of Texas College of Fine Arts to honor high school students from the metro area and six surrounding counties for their achievements in various musical theater productions.  Barr, along with freshmen Sam Dubin and Ellie Zambarano, sophomore Hannah McEvilly, juniors Quinlyn Tesar, Jacob Roberts-Miller, Stoakley and Dworin, auditioned and were chosen to be a part of a select ensemble for the GAHSMTA, performing in numbers throughout the Tony Awards-style ceremony.
"I'm super excited that the Greater Austin High School Musical Theater Awards are going to start happening every year," Barr said. "It just kind of sucks that this is the year they started because this is my senior year. But I'm glad I had the chance to participate in it and win an award."
Barr, who said he very much supports the GAHSTMA's mission to recognize high school musical theater in Austin, has participated in over 40 productions at McCallum. Barr cited his favorites as "No Exit," a student-directed play he performed in during his freshman year, and "Parade," in which he had his first lead role in a musical.
"I feel like everything has led up to this point and hopefully into the future," Barr said. "It is nice to know that all of my hard work isn't going unnoticed."
After Barr graduates in June, he will attend the University of Texas at Austin and major in theater performance with an emphasis in musical theater. Barr was also accepted into theatre programs at Point Park University, Marymount Manhattan College and Rider University.
"I think the pace that they take it at [McCallum] is a lot similar to real life in that we have a lot of productions and the hours are long, but it always pays off in the end," Barr said. "And I have made so many great connections here, like Mr. Denning knows a ton of Austin theater people. I feel like Mac Theater is very, very close. And if it wasn't at a high school, it would be a professional company."
The theater department has also received a number of rave reviews from Broadwayworld.com as well as recognition from the GAHSMTA.
"It is amazing to see that reviewers are coming and seeing our shows above other high schools and comparing us to professional theater companies," Barr said.
While Barr is ending his career at McCallum Theater with a GAHSMTA award, he said he hopes to receive a Tony award in his future.
"I think that is the ultimate goal," Barr said. "We'll see where life takes me, I guess. But hopefully, a Tony is in the future for me. That would be awesome."