26.2 miles under his feet
Kendra Murphy
February 19, 2014
Filed under Features
Hang on for a minute...we're trying to find some more stories you might like.
Student participates in Austin Marathon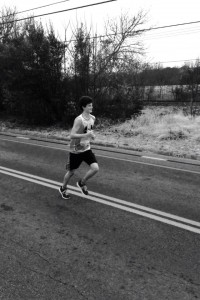 While part of the city was shut down for the Austin Marathon on Sunday, cars had a hard time getting around, but that didn't bother junior Alonso Fernandez. He was running.
"[The marathon] was really fun," Fernandez said. "It was my first one, and it's been something I've wanted to do for a long time. It was a great experience and a great way to see your city and appreciate the people. It felt really satisfying."
Fernandez said running downtown was his favorite part of the marathon.
"Downtown was really cool," Fernandez said. "There were crowds lined up and people cheering. The entire last 0.2 miles is just full of people. For the last mile, you run by the Texas Memorial Stadium, and the Texas band was there, and then you finish next to the Capitol. When you pass the finish line, you see the capitol and the Austin skyline in the distance."
According to Fernandez, one of the hardest parts of running the marathon was staying focused.
"A lot of it is mental, so you're just trying to keep going," Fernandez said. "At the end, like miles 20-26, you can't get mentally distracted. You have to keep going and keep your pace. You have to push through and stay focused and not give up."
Fernandez ran the 26.2 miles without any official training, but he still felt prepared.
"Since it's the middle of the soccer season, I really haven't had time to actually train," Fernandez said, "but I've been running off and on for about three years now. I also play soccer
and tennis, which isn't actual training for a marathon, but at least I'm staying active and fit."
Fernandez said he will definitely run more marathons.
"It's kind of addicting," Fernandez said. "It's really fun. Maybe not in the next few weeks or anything—definitely not tomorrow. I'm still super sore, but I'm definitely going to do the Austin Marathon next year, and maybe do another one later in the year."
Photos courtesy of Alonso Fernandez.