Issue 2 coming Friday
November 7, 2013
Filed under News
Hang on for a minute...we're trying to find some more stories you might like.
Watch for Issue 2 of the Shield to be distributed to your 2nd period class this Friday.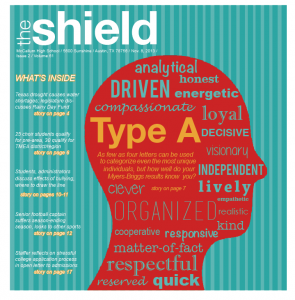 In this issue:
– As few as four letters can be used to categorize even the most unique individuals, but how well do your Myers-Briggs results know you?
– Texas drought causes water shortages; legislature discusses Rainy Day Fund
– 25 choir students qualify for pre-area, 30 qualify for TMEA district/region
– Students, administrators discuss effects of bullying, where to draw the line
– Senior football captain suffers season-ending injury, looks to other sports
– Staff reflects on stressful college application process in open letter to admissions
… and more!
Tweet us what you think of the issue tomorrow: @theshieldonline