The McCallum fashion club produces their third fashion show, Notions 2.5
Bella Temple
November 14, 2013
Filed under News
Hang on for a minute...we're trying to find some more stories you might like.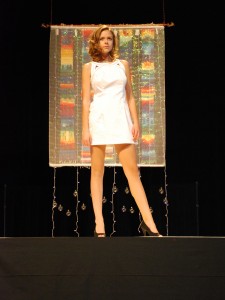 The Fashion Club had its third Notions fashion show, Notions 2.5, on November 2. This year the students were challenged to create pieces based on their favorite songs. The student-produced show also featured fashion from Crofts Original, an Austin boutique located on South Congress.
This was sophomore Meghan Derion's first time designing in the Notions fashion show. She based her designs on "Counting Stars" by One Republic.
"I tried to keep it spacy and whimsical," Derion said. "Sometimes I'll work for 24 hours straight if I get started on something, and I feel like I can't stop working until it is done."
The competitive part of the fashion show, the segment of the show designers were judged on, demonstrated altered pieces from Goodwill done by the students. They were auctioned off, and the proceeds went to Goodwill Industries.
"Goodwill gave us gift cards to go buy clothes and alter them," Derion said. "I had three models, two for my designer half and one for the Goodwill-sponsored half."
Goodwill was only one of the sponsors. McCallum 60th Anniversary Committee, Austin Fashion Week and Wilhelmina Brown of Austin also were major sponsors for the show.
The students reconstructed work was judged and the judges announced the winners at the end of the show. Third place went to junior Dominoe Jones, second place to sophomore Megan Derion, and the designers who placed first were senior Joe van Overbeek and sophomore Ramona Beattie. The models were also judged. Third place went to freshman Bella Cude, second to sophomore Ramona Beattie, and first place went to senior FranaZhea' Ragan.
Photo gallery by Mary Stites.