Six things you didn't know about the new economics teacher
Bella Temple
October 28, 2013
Filed under Features
Hang on for a minute...we're trying to find some more stories you might like.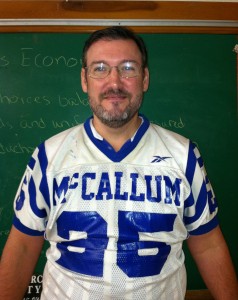 The new economics teacher Spencer Cheney has made a splash at the school this year. Here are six things you didn't know about him:
1. He hasn't always been a teacher.
"I was in the Navy before I became a teacher and then I was a private contractor between Navy and teaching. Being in the Navy was great. It was the best thing I've ever done."
2. He has been to 63 countries and six continents.
"England, Scotland, Wales, Ireland, Portugal, Spain, France, Italy, Belgium, Holland, Norway, Sweden, Switzerland, Greece, Germany, Serbia, Herzegovina, Czech Republic, Singapore, Malaysia, Thailand, Korea, Turkey, Afghanistan, Pakistan, India, Philippines, China, Iraq, Kuwait, Qatar, Lebanon, United Arab Emirates, Sierra Leone, Liberia, Nigeria, Republic of Congo, Niger, Libya, Somalia, Zimbabwe, South Africa, Sudan, Senegal, Australia, Mexico, Canada, Honduras, El Salvador, Costa Rica, Panama, Columbia, Chile, Peru, Argentina, Brazil, Bahamas, Cayman, Trinidad, Jamaica, Grenada, and Cuba."
3. His favorite country is America.
"Each country has its neat little traits. The people are the warmest in India."
4. He is done with traveling.
"I'm kind of done with that. Honestly, I'm traveled out. Some of these countries I went for work, some were for fun, and some were because I was nearby."
5. He really likes McCallum.
"The way you guys get along with each other and watch out for each other is really impressive. I love how you help each other out."
6. He has hobbies.
"Some I probably shouldn't talk about. I don't jump out of airplanes anymore. I can't figure out why you would leave a perfectly good aircraft. I do like scuba diving. I like to swim. Apparently you are not allowed to swim in Town Lake. Barton Springs is about the only open water you are allowed to swim in around here. I like open water swimming, not pools."