Staffer reviews new fall movies
Bella Temple
October 11, 2013
Filed under Opinion
Hang on for a minute...we're trying to find some more stories you might like.
The two movies I was most excited about seeing for October of 2013 were "Cloudy With a Chance of Meatballs" and "Gravity". After seeing the two films, I thought "Gravity" was terrific and "Cloudy With a Chance of Meatballs" was enjoyable, but didn't do as well as the first movie made in 2009.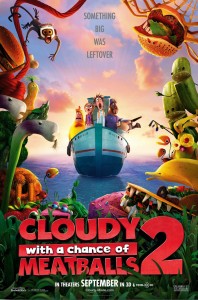 In the pun-filled motion picture "Cloudy With a Chance of Meatballs 2", food scientist Flint Lockwood faces a crisis that goes back to the device he invented in the first "Cloudy With a Chance of Meatballs" in 2009. The Flint Lockwood Diatonic Super Mutating Food Replicator (FLDSMDFR) went haywire, burying his island, Swallow Falls, in a mass flood of spaghetti and meatball tornados and giant hotdogs.
In the 2013 movie, the FLDSMDFR, after supposedly being destroyed, develops further, making Swallow Falls into a Jurassic Park of Shrimpanzees, Watermelophants and Mosquitoasts. Flint and his friends travel back to their now food-flooded island to once and for all destroy the machine before the food animals swim to the mainland destroying all the important landmarks.
As a huge fan of the first "Cloudy" movie, I was thrilled to see the second one. Though it didn't live up to the first "Cloudy" one, I still enjoyed the easy jokes ("There is a leek in my boat") and was glad to see that most of the original cast was still in the movie. Saturday Night Live star Bill Hader plays main character Flint Lockwoord; his meteorologist girlfriend is played my Anna Faris. The rest of the team includes their useless side-kick "Chicken" Brent (Andy Samberg); Policeman Earl (Terry Crews, replacing Mr. T) is the muscle and stealthiest of the group, Flint's father; Tim (James Caan), who hopes to receive some father-son time by attending the expedition; and of course, Steve, the talking-monkey (Neil Patrick Harris). Though I was disappointed to see that Mr. T wasn't going to be in the sequel, the cast still had their characteristic traits, making the film entertaining.
This is a great family movie, especially if you have any younger siblings.  Although I watched this with my older brother, we both enjoyed the film. If you relished the first "Cloudy" movie as much as I did, I highly recommend seeing "Cloudy 2". Even though I knew it wouldn't be up to par with the first, I felt I had to see it. But if you weren't too keen with the 2009 movie, I'd watch "Gravity" instead.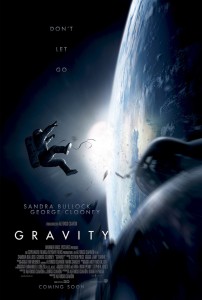 "Gravity", directed by Oscar nominee Alfonso Cuaron, is as astoundingly spectacular as you've probably heard it to be.
The movie with only one setting, space, starts off with Dr. Ryan Stone (Academy Award winner Sandra Bullock) and Matt Kowalsky (Academy Award winner George Clooney) working on the Hubble telescope. Disaster strikes as debris from a neighboring telescope flies toward them, forcing Stone to abort the mission.
When getting back into the shuttle fails, the two of them are left floating in the darkness of space. Tethered together, Stone and Kowalsky only have each other. They've lost connection with Earth, and they're losing oxygen fast. Hoping to avoid the next wave of debris, they attempt to make it to another shuttle.
Stone and Kowalsky are two very different people, but they balance each other out. Where Stone is all business, focusing on the job, trying to erase her fears and nerves, Kowalsky is all jokes, gliding around in the jetpack that is strapped to his back.
"Gravity" is an intense film; you'll be cross-legged with your jaw clenched and fists tightly closed for the full 90 minutes. As there are some disturbing scenes throughout the movie, you'll hardly be affected by it due to the tear-jerking scene that was just before it.
The movie is so perfectly made that I'm not sure how they even did it. It has just the right amount of sentimentality, intensity and action. Even though it's only set in space, it is not boring at all. In fact, the hour and a half went by surprisingly fast. I genuinely hope to see this film win an Academy Award in 2014.